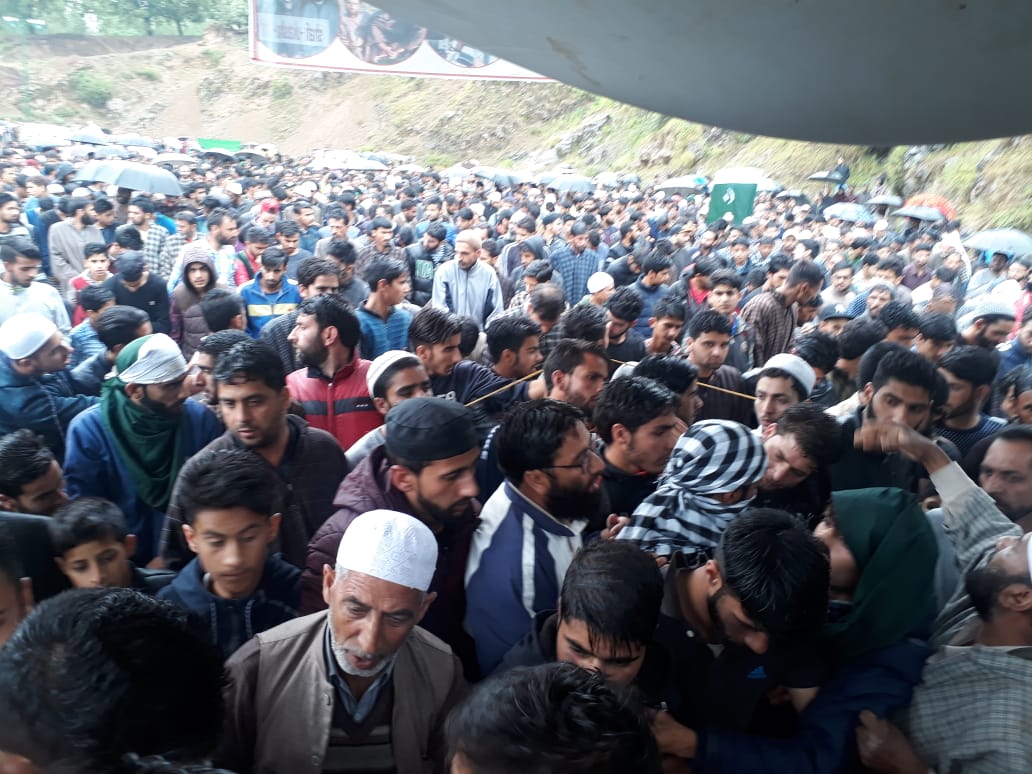 Srinagar: Despite heavy rains thousands of people participated in the funeral prayers of a militant and a civilian in Handwara and Pulwama areas on Saturday.
Reports said that people from the neighbouring villages reached Gund Chogal in Handwara area of north Kashmir's Kupwara district where they participated in the funeral of the slain militant Sajad Ahmad Shah son of Ali Mohammad Shah.
Thousands of mourners including men, women and youth shouted pro-freedom slogans while Sajad was being taken for final journey, they said adding that Sajad was laid to rest amid sobs and tears in martyrs' graveyard.
A spontaneous shutdown was observed in Handwara and Kupwara areas. All business establishments establishment were closed while as transport remained off the roads.
In wake of the killing of a militant, all schools and colleges remained closed in Handwara and Kupwara areas.
Meanwhile, thousands of mourners participated in the funeral prayers of the slain civilian, Faizan Ahmad Poswal son of Dr Abdul Gani Poswal at his native Gosannad Ludhow village in south Kashmir's Pulwama district.
Two rounds of funeral prayers were held at local Eidgah since Friday night while the third one was offered at District Hospital Pulwama.
Since late Friday evening, mourners marched in thousands to reach the native village of Faizan to participate in his funeral and to have his last glimpse.
The slain teenage boy was later laid to rest amid pro-independence and anti-government slogans.
Faizan, a class 10 student, had gone to the gunfight site at Chatapora where he along with hundreds of youth joined the stone pelting protests to disrupt the operation.
Dozens of youth sustained bullet, pellet and tear smoke shell injuries during the clashes and were shifted to Pulwama hospital for treatment but Faizan was hit by a bullet in the chest and lost the battle for his life on way to the hospital.
Police said that only one militant body namely Sajad Ahmad Shah has been recovered from under the debris during a search operation on Saturday morning while two of his associates managed to escape.
Meanwhile, a complete spontaneous shutdown was observed in the southern Pulwama district against the killing.
All shops and other business establishments remained closed while as public transport was off the roads.
The authorities have snapped internet services in Pulwama district since Friday while as train service to south Kashmir has been suspended. (GNS)