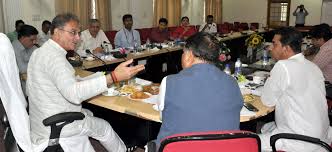 SRINGAR: Deputy Chief Minister, Kavinder Gupta on Monday said that government is committed to expand the "industrial scope" in all potential areas to give further fillip to this vital sector.
Industrial sector is the only "viable source" of employment for the unemployed youth and "boosting" the State's economy, for which the government will take all necessary steps for its overall growth, said Kavinder Gupta.
Gupta while addressing the industrialists said that he has already taken up the issue of "granting the special concessions" to the State of J&K on the analogy of north-east States with the Prime Minister, Narendra Modi and other concerned Central leadership recently, who were quite optimistic on the demand and it is most likely that a decision will be taken by the Central government soon.
He sought the cooperation from all stakeholders to create a conducive atmosphere in the State, especially in the Kashmir Valley to promote the industrial sector in a big way.
He assured that government will maintain close coordination with the industrialists and address their all outstanding issues on merit.
Principal Secretary, Industries & Commerce, Shailendra Kumar briefed on the overall scenario of industrial activities in the State and initiatives taken in recent years for the welfare of industrialists and promotion of industry.