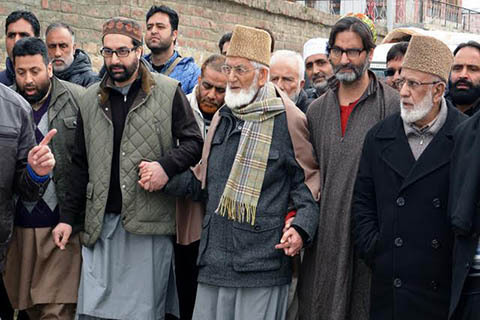 Joint Resistance Leadership comprising of Syed Ali Geelani, Mirwaiz Umar Farooq, Mohammad Yaseen Malik on Monday extended strike call for one more day against the "bloodbath" carried out by the government forces.
JRL asked the people to observe strike against the recent civilian killing in Shopian on Tuesday. They termed the killing of civilians as "genocide" of Kashmiri's.
The leadership had appealed to people especially traders, lawyers, intellectuals, civil society members and others to march towards civil secretariat as it is the seat of governance and holds a peaceful sit-in there to convey to these people presiding over our killings to put an end to it.
JRL said the authoritarian regime resorted to its standard approach of caging and arresting leadership and activists and all those who tried to peacefully march including the traders lawyers and turning most of Srinagar and other districts into military fortresses , blocking all roads with rolls of concertina wires snapping rail and road links and blocking the internet to foil the protest.
While strongly condemning the government's decision of foiling the protest marches of lawyers, traders, and employees towards the civil secretariat, JRL said that imposition of curfew in entire downtown and caging the entire resistance leadership reflects "frustration and acceptance of defeat by the government."
Earlier, five civilians as much as militants were killed by the government forces in Shopian and at least 50 civilians were injured during the clashes.