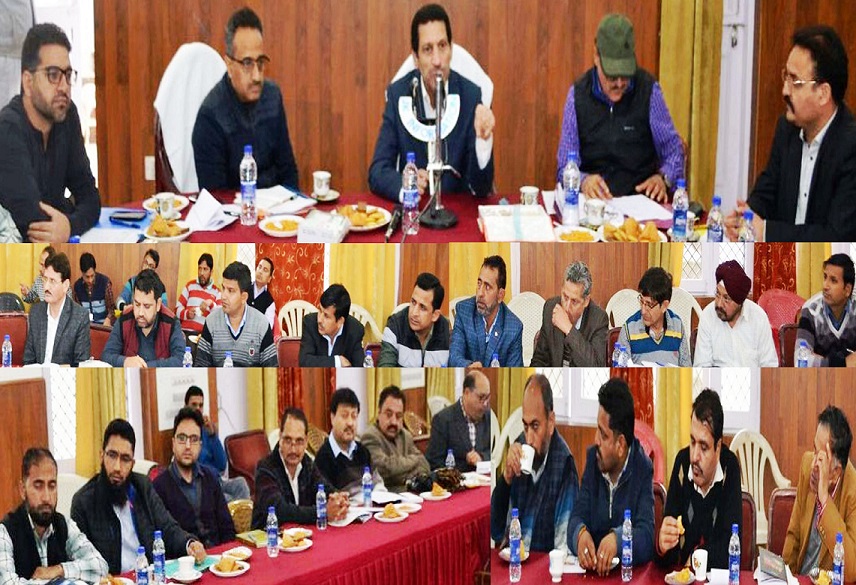 Divisional Commissioner Jammu, Hemant Kumar Sharma, on Monday chaired a meeting of senior officers to review progress on mega development projects being executed in winter capital and its peripheries.
The Div Com took a detailed review of status of work on expansion of Jammu Airport, construction of Barrage across River Tawi at Belicharna, multi-tier parking at General Bus Stand, Development of Tawi River Front, upcoming Legislative complex, augmentation of Chenab Water Supply Scheme, sewerage projects being executed by ERA and NBCC, restoration of Mubarak Mandi Heritage complex, four lanning of Jammu-Akhnoor road, ring road project, development of facilities at Suchetgarh under border tourism, construction of women Exhibition Development Centre at Exhibition Ground, Construction of Satwari Kunjwani Road (Phase 3rd), Construction of Boundary Wall around IIT campus at Jagti Nagrota,  IIM Jammu campus and Jammu AIIMS project .
Emphasizing on quality work and timely completion of the projects, Divisional Commissioner exhorted upon the executing agencies to speed up the pace of progress on the projects for providing early benefits to the people.
He directed the concerned departments to work in synergy and ensure regular monitoring of the projects besides adhering to quality norms. He also called for having inter-department coordination which is vital for expediting the pace of development works.
Hemant Kumar also had a detailed review of the physical and financial progress registered on these projects, so far.
He asked to use resources as per the requirements besides removing bottlenecks, if any, hampering these projects. He laid stress on maintaining financial discipline by utilizing funds in appropriate manner.
Regarding the construction of Tawi feeder Channel D-9A of Escape channel under Expansion of Jammu Airport, the Divisional Commissioner was informed that more than 90% of work has been completed and irrigation channels are ready for operation. It was informed that the balance work is in progress and may be completed by   June 30, 2018.
Among others, the meeting was attended by IG Jammu S. D. Singh, Deputy Commissioner Jammu, Kumar Rajeev Ranjan, Commissioner Jammu Municipal Corporation, Ramesh Kumar, Vice Chairman JDA, Rajesh Shavan, Director Tourism Smita Sethi, Director Industries and Commerce Dr. R. S. Sharma, Chief Engineer Irrigation and Flood Control K K Magotra, Chief Engineer M&RE Ashwani Kr. Gupta, besides other officers of the departments.