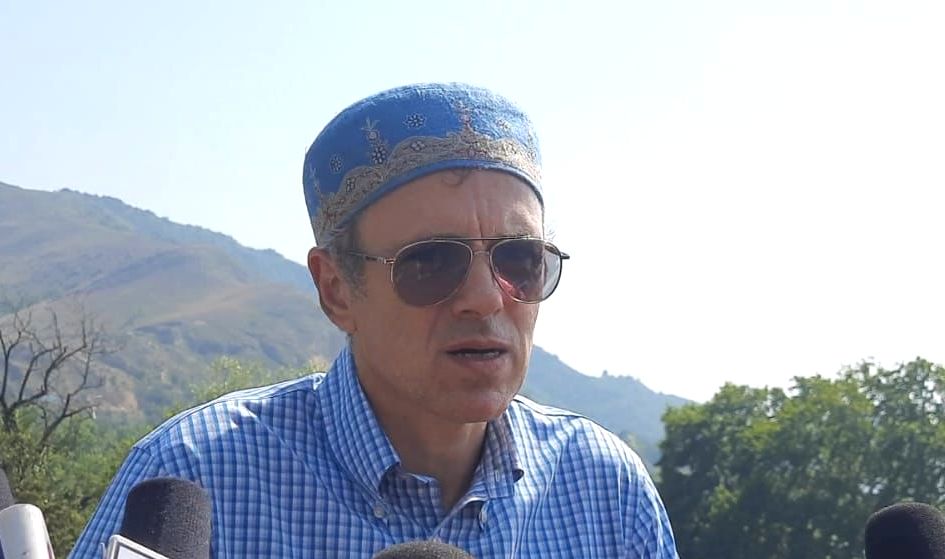 Kargil Sept 30: National Conference (NC) Vice President Omar Abdullah Saturday lamented the biased attitude of Ladakh administration towards NC, saying the groundswell of support for NC is making the ruling party nervous and jittery.
This he said while addressing a massive back to back public rallies at Drass and Kargil in view of the upcoming LAHDC (Kargil) elections.
"Ladakh UT administration's cowardice was seen today when JKNC Vice President Omar Abdullah's convoy was stopped at Zero Point Mini Marg and his security was not allowed to proceed. He was forced to move ahead without security for his two-day visit to Kargil. Omar Abdullah was moving towards Kargil in connection with the election campaign of Ladakh Hill Development Council (Kargil), during which is to address election meetings in Drass and Kargil," reads out the party statement.
In his address, Omar attacked the Ladakh administration and said that these people tried hard to stop the National Conference candidates from using the plough symbol but all in vain.
"First, these people had to face defeat from the High Court and then they had to suffer from the Division Bench of the High Court. But these people did not stop there, they reached the Supreme Court, but there also they faced the same music," he said.
Omar Abdullah said that the National Conference and Kargil have a bond that is not going to break. "Although our candidates are being harassed a lot by the administration, I am very hopeful that our candidates will forfeit the bail of BJP candidates."
Appealing to the people of Kargil to use their vote in the right way, Omar Abdullah said that this is the first time after August 5, 2019 that you are getting an opportunity to raise your voice.
"You can send a clear message through your vote that you accept or reject the decisions of 5th August 2019. What was given to Kargil after 5th August 2019? I laid the foundation stone of Zojila tunnel together with Rahul Gandhi, transmission line, power house and whatever other projects are there are all before 2019. Also after 2019 nothing new came here but only loss. We thought that these people would arrange at least one regular flight to Kargil airport, but they failed to do that," he said.
Criticizing the BJP, Omar Abdullah said, "I ask those who are asking for votes here in the name of BJP, what are the views of your organization towards Muslims? Who will respond to the member of parliament who used derogatory words for Muslims in the Lok Sabha? Those who are contesting elections here on BJP tickets should show us a Muslim Member of Parliament in BJP. Isn't it right to have a Muslim on even one of the seats? This is the first time after independence that there is not a single Muslim minister in the central government even though Muslims constitute 14% of the country's population, i.e. more than 22 crores. Did you not find a single member of parliament or minister among 22 crore Muslims? After all, why so much hatred and stubbornness?"
Omar Abdullah said that what these people are doing against Muslims in the rest of the country is not hidden from our eyes and the people of Kargil. "I am not allowed to wear hijab at will, we all know that. I want to ask those who are contesting elections in the name of BJP in Kargil, do they also have the same thought?"
The National Conference Vice President said that after 2019, Ladakh region suffered a lot. "If not today, then tomorrow, elections will be held in Jammu and Kashmir, but no minister, MLA, MLC or Rajya Sabha member will be formed from Kargil and Ladakh. These people have hollowed out the Ladakh region, people come from outside, rule here according to their will and leave, more than half of them are people who are completely ignorant of the geographical conditions and mood of the people here."