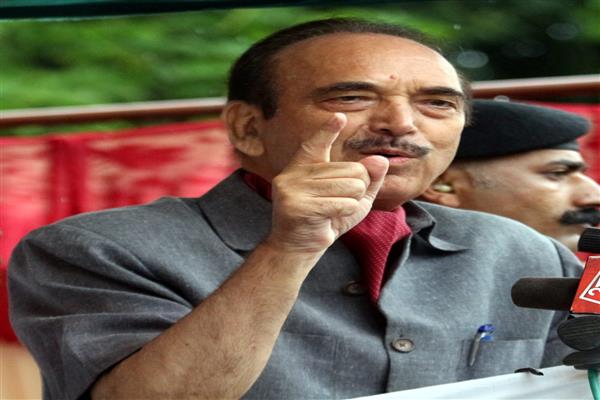 Srinagar, Jul 08: Democratic Progressive Azad Party (DPAP) Chairman Ghulam Nabi Azad while speaking on the Jammu and Kashmir administration's scheme of land for "homeless" people said land should be given to poor residents of the union territory only.
"We welcome the land allotment step, but there should be a condition for that and the land should be given to the poor residents of Jammu and Kashmir," Azad said on Saturday.
The DPAP chairman, said this while speaking to the media persons in district Budgam.
He said since the dissolution of the assembly in J&K, they have been waiting for elections so that the elected representative of the people could run the government.
"In a democracy, only elected representatives can run a government, be it here or any part of India or the world, officers cannot run the government beyond six months. We have maintained the same demand for elections for the last six years and that stands the same today that elections should be held at the earliest," he said.
On the Uniform Civil Code (UCC), Azad said its implementation is "not as easy as removing Article 370". "It involves all religions and the present government should not even think of taking such a step," he said.
"Uniform Civil Code is not as simple as removing Article 370. All religions including Muslims, Sikhs, Christians, Tribals, Jains and Parsis are involved in it and it is not good for any government to annoy so many people at one time. It is my suggestion to the government to not even think of taking any such step," he said.