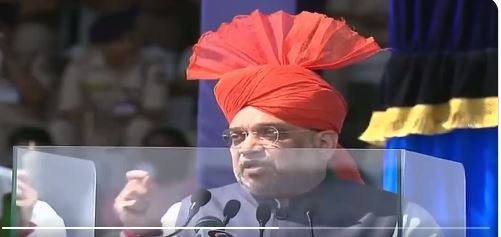 SRINAGAR: Lashing out at the Gandhis, Abdullahs, and Muftis, Union Home Minister Amit Shah on Friday accused the three families of being responsible for the killing of 42,000 people in J&K from 1947 to 2014. He stated that the successful G-20 in Srinagar was a grand success, and all the participants have returned to their respective countries with the message.
Addressing a gathering at Bhagwati Nagar Rally Ground in Jammu, the Home Minister said that gone are the days when three families would rule and ruin J&K. "From 1947 to 2014, 42,000 people were killed in J&K. Who was ruling during this period? Three families—the Gandhis, Abdullahs, and Muftis."
Paying tribute to the BJP ideologue, Dr Shyama Prasad Mukherjee, on his death anniversary, Shah said that Mukherjee was illegally arrested in 1953 for entering J&K without a permit. "Why should one need a permit to enter their own country? He was jailed and later assassinated," Shah said, adding that today the "soul of Mukherjee will be resting in peace as his mission and vision of Ek Vidhan, Ek Nishan, and Ek Pradhan stands fulfilled."
The Home Minister said that Dr Mukherjee was the first to oppose the inclusion of Article 370 into the Indian constitution, stating that "one nation can't have two flags, two constitutions, and two heads." "On August 5, 2019, Prime Minister Narendra Modi took a big step and removed Article 370 forever, fulfilling Dr Mukherjee's vision," Shah said, adding that if West Bengal is with India today, it is due to the vision of Dr Mukherjee.
He mentioned that India is celebrating nine years of PM Modi's rule. "Modi's rule is an open book. It is not like the UPA that had a Rs 12 lakh crore scam. There is not even a single corruption allegation against Modi during his nine-year rule," Shah said, as per KNO.