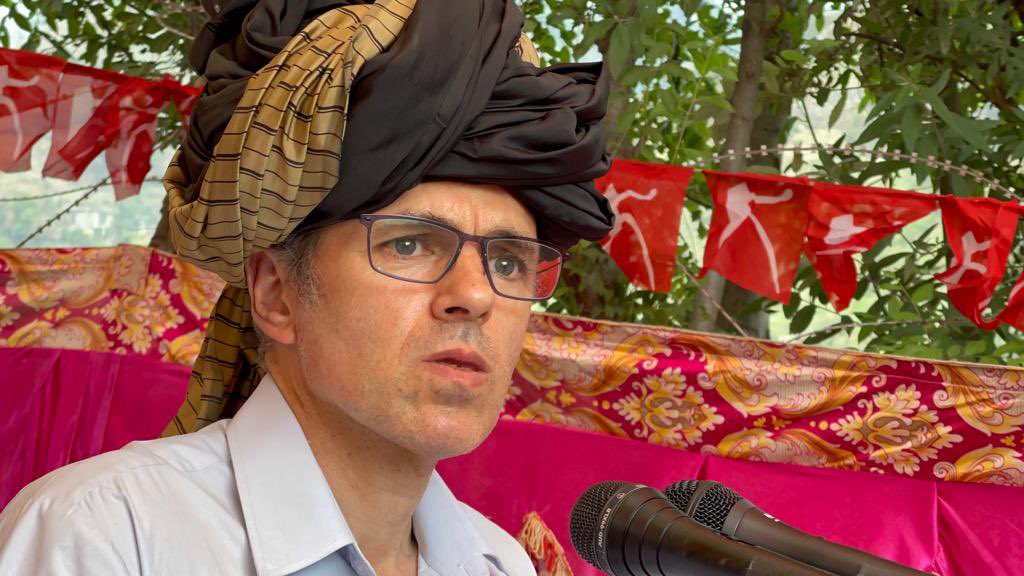 Srinagar, June 14: The Jammu and Kashmir National Conference Vice President Omar Abdullah on Wednesday said that BJP is running away from elections due to the fear of losing its postal address in Kashmir.
Talking to Media on the side-lines of his condolence visit to Magam, Omar said, "The fact is if BJP has strong footing in the region, assembly elections would have taken place in Jammu and Kashmir by now. These people are running away from the election because they know that they will lose badly in Kashmir as well as in Jammu."
He was accompanied by his political advisor Mudassar Shahmiri, Dr. Muhammad Shafi, and publicity secretary GM Mir Saqi on the condolence visit. Senior party leader Sheikh Muhammad Rafi, DDC members and local office bearers were also present on the occasion.
The whole world wants to know what is going on in Jammu and Kashmir. If parliamentary elections can be held here, preparations for panchayat, municipal and DDC elections can be made, then why is the assembly election being avoided? People who are sitting as kings, have got power without election, these people are ruling here without any election and this is our misfortune," Omar said.
He further said, "These people are well aware that if elections are held here, their addresses will not be found here, so these people are running away from the elections. If these people have the courage, they should hold the assembly elections along with the parliament elections."
In response to another question, Omar Abdullah strongly condemned the manhandling of the Tamil Nadu minister at the time of his arrest and said that this is not a new thing. "Such things are not unknown in the current era, it's the cost every opposition has to pay. Central government and their agencies should think about their behaviour."
In response to another question about films being made centered around anti-Muslim narratives, Omar Abdullah said, "Our religion is not so weak that such propaganda films will harm us or have any effect on our religion. This is part of a well-planned conspiracy by these people, as Parliamentary elections are approaching. I anticipate such actions will increase. But we have to act wisely and not get perturbed. Let them spread their lies but they will not succeed in any case, we just have to show patience."
Earlier, Omar Abdullah visited senior party leader Muhammad Ibrahim Mir's house in Magam to offer condolences and share his grief over the demise of his brother. He expressed his heartfelt condolences to all the family members of the deceased.