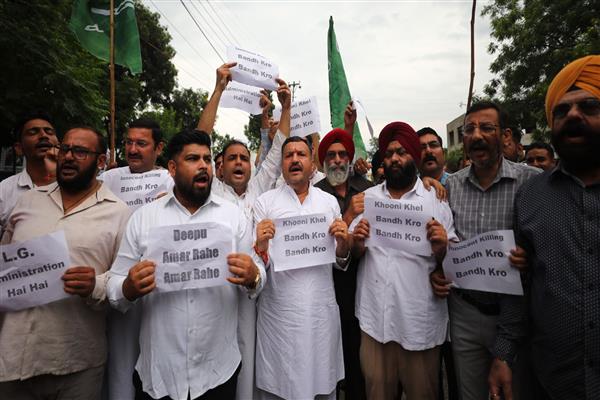 JAMMU May 31: Shouting slogans against the BJP-controlled administration in Jammu and Kashmir, activists of the Peoples' Democratic Party (PDP) on Wednesday staged a protest against unabated selective killings in Kashmir Valley and the failure of the authorities to ensure the safety of the helpless people working to earn their livelihood.
Addressing the gathering PDP leaders strongly condemned the BJP-controlled administration for its failure on all fronts.
Pointing toward the gruesome killing of poor worker Deepak Kumar alias Deepu of the Thial village of Udhampur, PDP leaders said that this incident exposed tall claims of the administration.
"This is not an isolated case, selective killings of innocent people are going unabated in Kashmir Valley and those at the helm of the affairs are claiming that situation is normal", party leaders said and observed that targeted killing just after the conclusion of much-touted G-20 summit is an eye opener for administration.
"Instead of taking effective steps to ensure the safety of common citizens of Jammu and Kashmir, the BJP-controlled administration is shamelessly busy in photo sessions just to befool the people outside J&K", party leaders said.
Speaking on the occasion, PDP additional general secretary Sukhvinder Singh demanded that exgratia of Rs 25 lakh and a government job to one member of the family of deceased Deepak Kumar should be given by the government because he was the lone breadwinner for the poor BPL family.
Rajinder Manhas pointed out that on the one hand government is claiming that the situation has improved in J&K during the last four years but on the other hand, targeted killings are going unabated.
Demanding adequate compensation to the family of deceased party leader Varinder Singh Sonu regretted that higher-ups of the administration have no time to visit the poor family of Deepak Kumar.
Satpal Charak, Sohit Sharma, district president, E Peter state secretary, Balbir Singh, Sunil Bhat, Tajinder Singh, Sameer Kasana, Ranbir Singh Manga, Ashok Chib, Pankaj Dutt, Jeet Balgotra, Parath Sharma, Davinder Dogra, Vimal Sharma, Neeraj Chandel, Dimple Kumar, Sanjay Gupta, Advocate Aditya Gupta, advocate Majid Shah, Ashwani Kohli, Ashwani Kumar, Deepak Raina, and others spoke on the occasion.