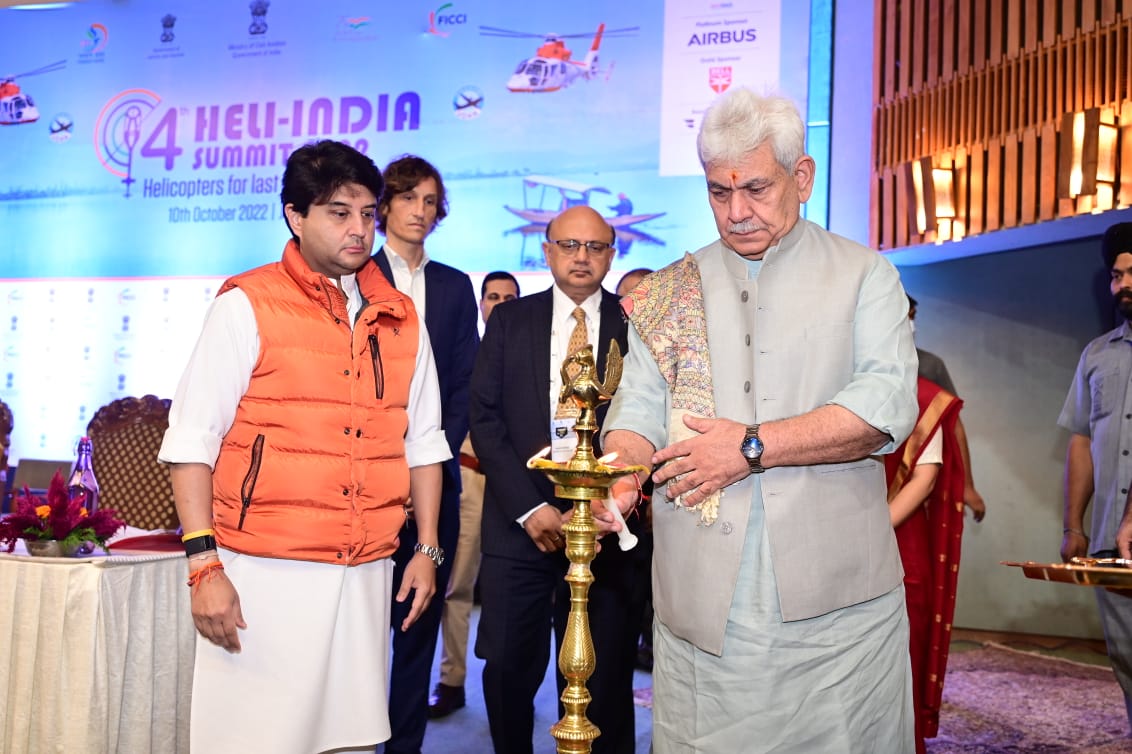 Srinagar, Oct 10: Buoyed by the unprecedented number of tourist arrivals in J&K this year, the UT's Lieutenant Governor Manoj Sinha Monday advocated Heli-Tourism to woo more tourists during winter months and assured all-out support to service provided by the administration.
"This year, more than 1.62 lakh tourists visited UT. The number is unprecedented," the LG Sinha said addressing the Heli-India 2022 Summit at SKICC on the banks of Dal Lake, Srinagar. He was flanked by Union Minister for Civil Aviation Jyotiraditya Scindia and other officials of the Aviation Ministry.
The LG said that at present more than 100 flights operate from Srinagar airport and 44 flights from Jammu airport on a daily basis making these airports busiest in the country.
"Aviation Sector is growing in J&K and with the support of Union Minister more is in the offing," he said. "Given the winter tourism potential of J&K, some service providers stated that many areas having vast tourism potential remain cut-off for six months due to snow accumulation. I feel J&K is ripe for Heli-Tourism and I want to assure the service providers that the J&K administration will provide all-out support to service providers whatever they need."
J&K LG said that connectivity had been a major issue here but post 2019, Prime Minister Narendera Modi and Union Roads and Transport Ministry ensured that the place doesn't lag behind any more as far as connectivity is concerned.
"In J&K, highways worth Rs one lakh crore are coming up. Next year, Kashmir will be connected with Kanyakumari with a rail link. This beautiful place is growing beautifully as per its potential," he said.
LG Sinha said that outside investors under the Industrial policy, have made Rs 56000 Crore investment proposals which will open jobs for the unemployed youth. "J&K government is committed to secure the future of youth, farmers and women," he said, adding that today, J&K is at third slot under PMGSY while on E-governance front, it is at number one position.