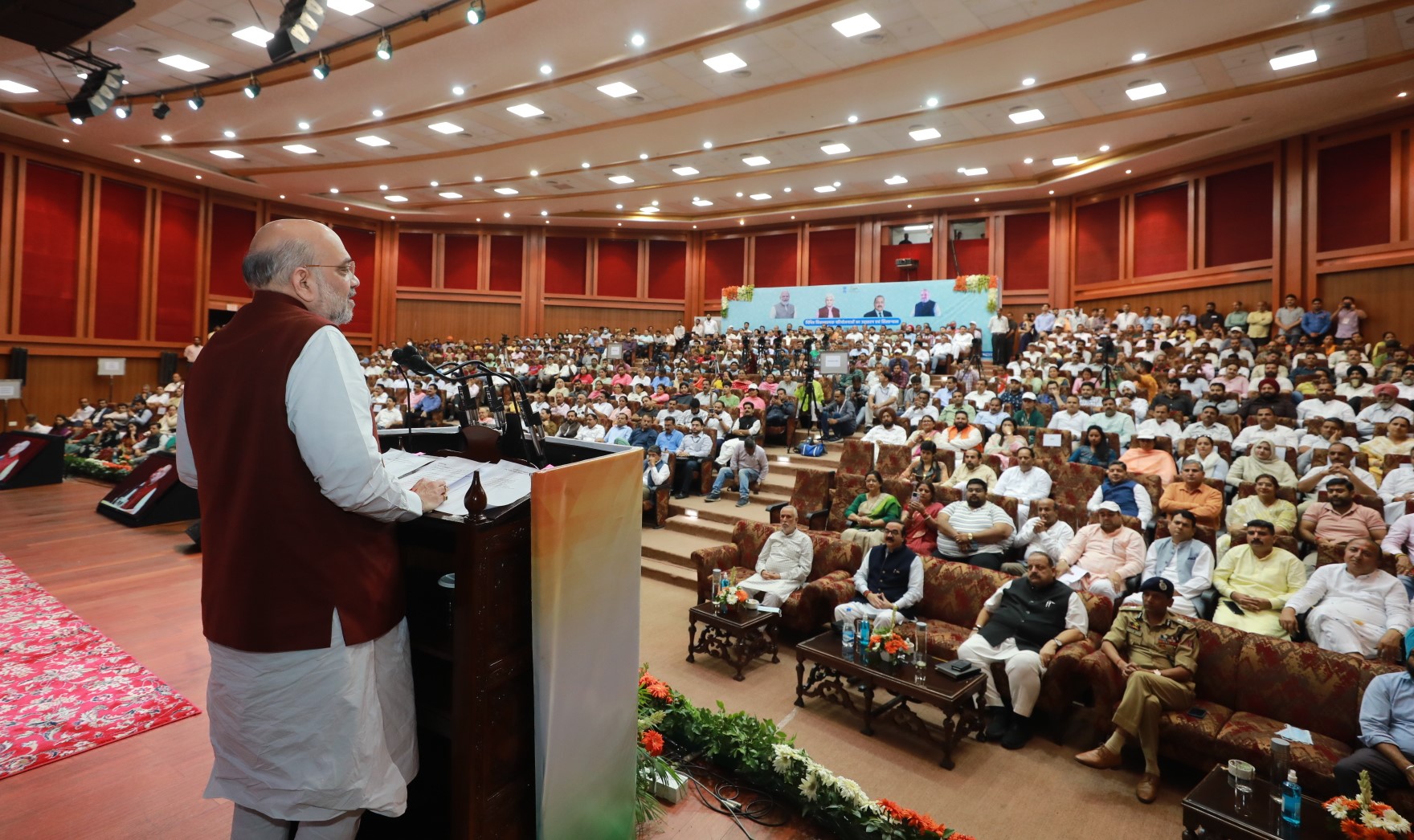 Jammu, Oct 04: Union Home and Corporative Minister Amit Shah on Tuesday said that Prime Minister Narendra Modi led government has been committed to end corruption and militancy from the Union Territory besides making J&K number one in the country.
Addressing a gathering at conventional centre Jammu this evening to lay foundation stones of developmental works, Amit Shah said that BJP is a party which fulfil its promises and under the leadership of Narendra Modi, GoI committed to end militancy and corruption for the region.
Stating that the government has adopted zero tolerance policy for militancy, the Home Minister said, "42,000 people lost their lives to terrorism in Jammu and Kashmir. The situation was so bad that even newspapers did not carry news about the killing of 2-5 persons as it had become a routine affair. However, after the PM Narendra Modi government took over the security situation improved now to such an extent that no one dares to call hartal or indulge in stone-pelting.
"Those who used to call 'hartal' or pelt stones on behest of some other country (Pakistan)," he said. "Do you know why there is not a single stone-pelting incident in Kashmir now? Because stone-pelters were sitting in the government at that time. Not only terrorist sympathizers in the society but government has identified their supporters sitting in the government offices and action has been taken against them."
He also said there has not been a single encounter now as 'terrorists' were given an opportunity to surrender.
"We gave opportunity of surrender to terrorist in every encounter. Those who put down guns are facing litigation at courts but those who replied with bullets got retaliation from police," he said.
Shah said terror incidents have come down by 56 per cent, casualties among security forces by 84 per cent. "Recruitment as terror cadres has also come down," he said, adding that "I am glad to share that our police or security forces have full control of the security situation and nobody dares to challenge them."
Enlisting the developmental works done in the last few years, Shah said Modi has focused attention on this region. Jammu as well as Kashmri got AIIMS, NIT and IIT, students of Jammu and Kashmir have ample higher education intuitions, which was not possible earlier.
"PM Modi gave computers to the youth who earlier held stones (for stone-pelting) in their hands.
He added that a record-breaking 50 lakh tourists have visited Jammu and 22 lakh tourists have visited Kashmir in recent months. "Tourism will hugely benefit the youth of Jammu & Kashmir," he said.
Coming down heavily on the Opposition in Jammu and Kashmir, Shah said earlier just three political families used to rule the erstwhile state, but now power is with people.
"J&K's three political families are responsible for its backwardness. J&K lagged behind on all development parameters due to their alleged misrule," Shah said, adding, "But the situation changed after 2014 as the Modi government gave priority to Jammu and Kashmir's development, and it is progressing well now".
Even though Shah did not identify the three families the obvious reference was to the Abdullahs (National Conference) Muftis (PDP) and the Nehru-Gandhi (Congress).
He said there have been big changes ever since Article 370 and Article 35-A was abrogated on August 5, 2019.
Shah said after the abrogation of Art 370, people in J&K got benefits from various government schemes.
"Democracy is strengthened when people welcome change. It's important to identify the 3 families of J&K which nurtured separatism instead of development for the last 70 years," Shah said without naming opposition.
"I want to appeal to you to free Jammu and Kashmir from the clutches of these three families and to make the hands of Modi strong for betterment and welfare of Jammu and Kashmir," he said.
He said as many as 27 lakh people of Jammu and Kashmir are now getting health insurance benefits of up to Rs 5 lakh while 58 percent people getting piped water in their homes.
Earlier, he said that, "I am a straight forward person, journalists criticized me for giving political statements in government functions but I don't talk politics, I am speaking for Jammu and Kashmir."
He also thanked PM Modi and LG Manoj Sinha for granting Holiday on September 23, birth anniversary of Maharaja Hari Singh, the last Dogra king of J&K.
Shah said that Jammu and Kashmir is part of India just because of the Instrument of Accession signed by Maharaja Hari Singh and every Indian remains indebted to him.
He also paid tributes to Shyama Prasad Mukherjee and Pt Prem Nath Dogra for their contribution in starting the campaign against special status of J&K.kno