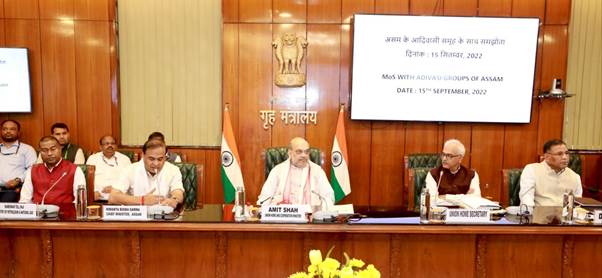 Srinagar, Sep 15:  A peace agreement was signed between the Centre, Govt. of Assam and eight tribal militant groups operating in the region.
The tribal groups which signed the agreement include Birsa Commando Force, Adivasi People's Army, All Adivasi National Liberation Army, Adivasi Cobra Military of Assam and Santhal Tiger Force.
Union Minister of Home Affairs & Minister of Cooperation,  Amit Shah presided over the signing of historic agreement between Government of India, Government of Assam and representatives of militant groups in New Delhi.
Union Home Minister said that in accordance with the Prime Minister Shri Narendra Modi's vision of a peaceful and prosperous North East, this agreement will prove to be another important milestone in the direction of making North-East extremism free by 2025.