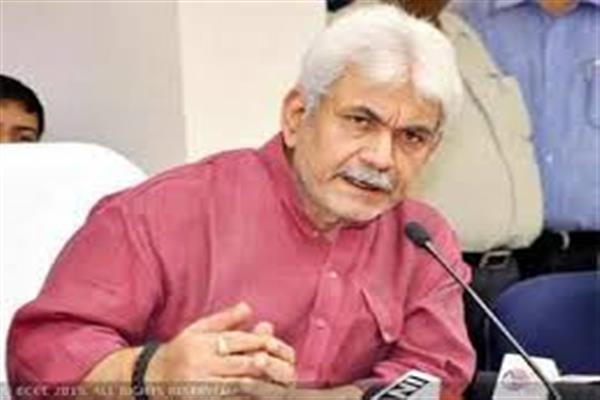 Jammu, Sep 16: Jammu and Kashmir Lieutenant Governor Manoj Sinha on Friday said that the decision to declare the birthday of Maharaja Hari Singh as a public holiday was taken to acknowledge the contribution of late Maharaja and respecting the sentiments of the local people.
"The decision of Holiday (September 23, Birth Anniversary of Maharaja Hari Singh is a tributes and acknowledgment of contribution of Late Maharaja," the Lt Gov said, who recently announced public holiday on late Maharaja Hari Singh's birth anniversary. Maharaja Hari Singh was born on September 23, 1895 and died on 26 April, 1961.
"Respecting the sentiments of the local people, this decision has been taken in view of the contributions of late Maharaja Hari Singh. I expect the official orders to be issued in a 2 or 3 days," LG Sinha said.
The announcement was made by Lieutenant Governor, Manoj Sinha following his meeting with a delegation comprising prominent political leaders, members of the Yuva Rajput Sabha, and civil society members, including the head of the Jammu and Kashmir transport union.
Earlier, LG Sinha inaugurated free artificial limbs and calipers distribution camp at SKUAST, Jammu to mark birth centenary celebrations of Late Dr Uttam Chand Shastri Ji.
The Lt Governor appreciated Chudamani Sanskrit Sansthan, Basohli, Shri Kailakh Jyotish avim Vedic Sansthan Trust, Mahavir Seva Sadan and Abha Bagrodia Charitable Trust, Kolkata; SKUAST-Jammu and Central Sanskrit University, Ranbir Campus, Jammu for the remarkable, self-less and noble initiative.
Speaking on the occasion, LG Sinha said aids and assistive devices for empowerment of Divyangjan and bringing them in the mainstream of society have always been one of the topmost priorities of the Government.  Such initiatives are fitting tribute to the ideals and values that our society stands for.
The Lt Governor felicitated Dr Sanjay Sharma of GMC Jammu and Dr Vikas Padha of Shri Mata Vaishno Devi Narayana Super speciality Hospital for their exemplary service and endeavour towards the noble cause of serving the people.
Enlightened citizens of the society and voluntary organizations must come forward and complement the government's efforts to provide succour to the sufferings of the people and contribute to accessible India campaign, he added.
Our ancient texts are a beacon of light for humanity. The source of our prosperous present and future is deeply rooted in Sanskrit scriptures. I convey my best wishes to Chudamani Sanskrit Sansthan for social service and promotion of Sanskrit, the Lt Governor said.
Jagadguru Shankaracharya Swami Shri Adhokshajanad Dev Tirtji Maharaj, while speaking on the occasion, appreciated the development works carried out by UT Administration, especially for the promotion of Sanskrit. He also lauded the government's arrangements for this year's Shri AmarnathJi Yatra. Not only the government, but everyone should come forward to serve mankind, he added.
Prof J.P Sharma, VC SKUAST-Jammu, in his address, highlighted the initiatives taken by the University while discharging social responsibility.
Sham Lal Sharma, former Minister, while complementing the organizers for the camp, said that this message should be conveyed to every nook and corner of Jammu and Kashmir so that the maximum number of needy persons can be helped. kno