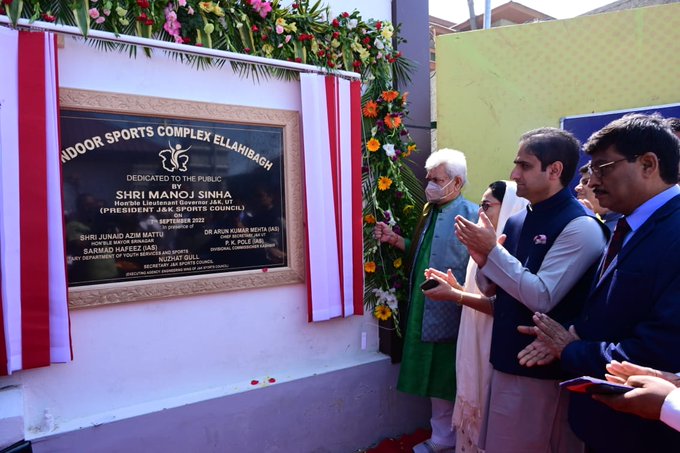 Srinagar, Sep 07:  Jammu and Kashmir's Lieutenant Governor Manoj Sinha Wednesday said that those who misguided the youth of Kashmir, especially those from downtown preferred to send their own children outside for studies. He said some people who played at the hands of "conspirators", set other's house on fire and themselves stayed in foreign countries to live a tension free life.
The LG, however, didn't name anyone. He was addressing a gathering after inaugurating an indoor stadium at Elahibagh area of Srinagar outskirts here.
"Some people misguided the youth of Kashmir especially those from downtown Srinagar while they sent their own children to foreign countries for studies. These people while playing at the hands of conspirators set other's house on fire and themselves preferred to live a lavish life in foreign countries," the LG said, without naming anybody.
He said that society and people of Kashmir collectively must stand against these people and defeat their designs.
"Conspiracy is still on. Today our youth are being pushed towards drugs and we need to save our youth and foil this design of enemies as well," Sinha said.
The LG said that Elahibagh area of Srinagar will have a drug de-addiction centre soon. Reaching out to the youth of downtown, Srinagar, he said that downtown or Shahr-e-Khass has been the heartbeat of Kashmir and his administration will put in every effort to restore the lost status.
"I want to see the youth of downtown represent India at the international level," he said. The LG also announced that 1000 youth from downtown Srinagar will be provided jobs while those associated with copper, paper machie and other arts will also be adjusted under a cluster program.
He said that Srinagar's downtown is fast emerging as sports champion's hub due to great talent among the local boys.
The LG said that that gone are the days when Srinagar youth were facing difficulties in displaying their talent.  "Today, the youth of downtown are excelling in various sports related activities even at the national level. Time is not far, when downtown youth would prove their mettle at the international level too," he said.
He said that downtown Srinagar is fast emerging as the champion's hub as it has produced boys like Ronaldo apart from the cricket.
Sinha said his administration will streamline gazetted and non-gazetted cadres in the sports council and put in the best efforts to explore the talent of boys from downtown and other parts of Kashmir.
He said that a separate budget has been kept for promoting talent and improving sports infrastructure in Jammu and Kashmir. The LG said that 12 sports stadiums have been upgraded in Shahr-e-Khass areas (downtown Srinagar).
Reaching out to youth, the LG said that money won't come as a hurdle in the way of talented sportsmen of Kashmir including Srinagar.kno