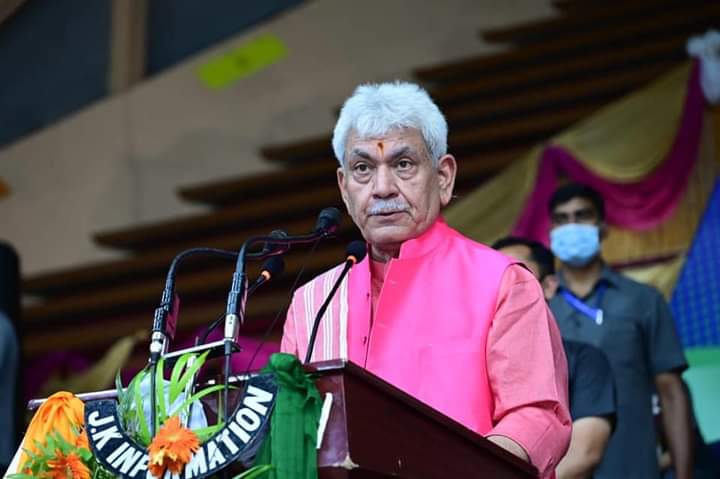 Jammu, Sep 02 (KNO): Claiming that the present administration is working for equitable development, Jammu and Kashmir Lieutenant Governor Manoj Sinha on Friday said that people need to come out of discrimination syndrome.
"There were times when some people ran shops by creating a divide between Jammu and Kashmir region. Such people still exist but I would like to clear that administration is working without any regional bias and it is time to come out of this discrimination phobia," LG Sinha said.
He inaugurated and laid foundation stone of 14 projects of Jammu Smart City worth Rs 113 crore.
LG Sinha further said that both Kashmir as well Jammu are integral part of India and there is no question of any kind of discrimination or appeasement with any region.
"People of Jammu also need to understand that every time crying discrimination will not work. Some miscreants still keep nurturing this thoughts in mind of people to exploit emotions but by falling in their trap the rather deceive the development targets," he said.
Moreover, the LG said that smart city is unimaginable without smart citizens.
"To deserve smart city people need to be smart citizens. People throwing trash on roads and blames municipality will not work together, we need to be cautious with our actions and habits, to deserve smart city," he said.
He said people need to be eyes and ears of administration the keep the infrastructure in good shape.
"There were reports in newspapers that anti social elements are defacing the infrastructure but police are doing a good job to apprehend accused. Civil society also needs to criticize such incidents," he said.
Earlier, dedicating the Smart City Projects to the people, the Lt Governor said these projects will create smart living by improving quality of life, better public services, opportunities for local economic development and easier accessibility to everyone.
"Our aim is to transform Jammu as an eco-city for sustainable economic activities and to also nurture ecological assets," he said.
Six projects have been initiated to harness the benefit of rich ecology, enhance the wellbeing of citizens and resource efficiency by appropriate strategic approach, the Lt Governor said.
The Lt Governor also impressed upon multi-stakeholders contribution and people's participation to make J&K UT's cities and towns resilient, competitive, and dynamic with strong social infrastructure to tackle the challenges of growing urbanization.
The Lt Governor further observed that the concept of Smart City without Smart Citizen is meaningless.
Highlighting the impact of the Smart City projects inaugurated today, the Lt Governor said that the Facade Lighting of Mubarak Mandi, the priceless heritage of Dogra Dynasty, will add aesthetics to the heritage building, and boost the local economy by attracting more tourist influx.
The 10 new digital panels and advertisement panels at 110 locations apart from generating revenue for Jammu Municipal Corporation will also provide employment opportunities to locals, he added.
The Lt Governor observed that the project of street development from Mubarak Mandi to Raghunath Bazar, will provide a new experience of smart urban mobility to the citizens while preserving the cultural richness of the old market and locality of about five and a half kilometer road and its adjoining city.
He expressed hope that once the project is completed in June 2023, Raghunath Bazar, Jain Bazar, Kanak Mandi, Moti Bazar will emerge as a smart commercial hub and will also provide new opportunities for economic growth to the existing businesses.
Another street development project from Canal Road to Talab Tillo Chowk costing Rs 20 crore has been planned to be completed with an integrated approach, keeping in mind the urban design process, urban management, mobility and local economic development, it was informed.
Speaking on the achievements of the revenue department, the Lt Governor said, under the guidance of Prime Minister Narendra Modi, major revenue reforms were introduced by the government in the last two years.
Initiatives like 'Aapki Zameen Aapki Nigrani' and institutionalization of 1553 Patwarkhanas has empowered the common citizens.
Through digitization and land pass books, land disputes will be substantially reduced and it will be easier to check fraudulent transactions.
The land passbooks that have been distributed today are valid documents and to ensure its security, a unique number and QR code have been arranged in the passbook given to the land owners, he added.
The work of digitization of land records is going on in all 20 districts and out of 6912 villages, the process of digitization has been completed in 3049 villages i.e. land records of about 44.11 percent villages have been digitised, it was informed.
On the occasion, the Lt Governor also directed all Deputy Commissioners to complete the modalities for the disbursement of next installment under PM Kisan to all the beneficiaries of Jammu Kashmir.