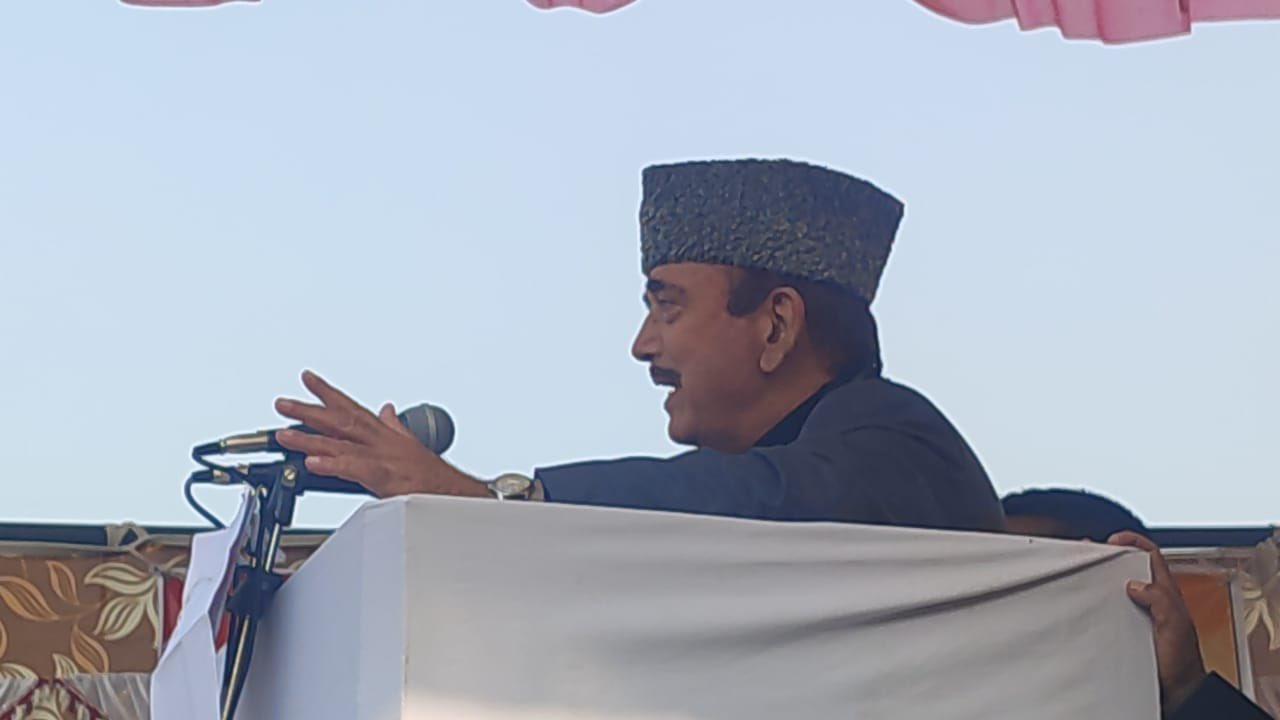 Srinagar, August 29: Reacting to the allegations of some parties that Former Chief Minister Ghulam Nabi Azad parted ways with Congress with an understanding that he will form his own party in J&K only to help the BJP like Asaduddin Owaisi, he said that he can ally with any party except BJP who he says has no voter base in Muslim majority regions.
"BJP has no vote in Kashmir, Chenab or Pir Panjal region. I cannot help them in the Hindu area. No one is ready to listen the name of the BJP in Muslim areas. Now how can I help them? They should at least talk sense before levelling allegations. I and Owaisi have a difference. In UP there are some constituencies where they are even 90 per cent Muslim voters. BJP there fights regional parties, here we have no BJP in Muslim dominated areas," he said in an interview with local news agency KNS.
On being asked about the allegations of some politicians that Ghulam Nabi Azad is forming A team of BJP, he said, "I was the only one who contested BJP in parliament on abrogation of special status. I sat on Dharna for four hours, then again made a speech against the decision. No one spoke against PM Modi from congress on Kashmir, 370, division of J&K. Anyone can check my speeches, only three leaders from G23 Group of Congress spoke along with me in the parliament which includes Kapil Sibal, Shashi Tharoor. It is for anyone to guess that the man who fights on Kashmir with HM and BJP, how can he join BJP. Some people are trying to present parliament episodes with the PM differently. Modi cried because of death of some Gujaratis in an accident not of my departure. Padam Bhushan was not given to me only, Tarun Gogoi, ex congress CM, S C Jamir Ex CM Nagaland from Congress, Rahul and Sonia G welcomed them, I fought against Kashmir militancy, Punjab militancy, they have issues with my award only, why so."
Ghulam Nabi Azad also said that he is ready to give his blood to the people of J&K for restoration of statehood, and securing jobs and land for locals.
"I left Chief Ministership 15 years before, still people love me, otherwise people forgot people in a day after stepping down from the chair. Thousands of people met me all those years. Still People have respect for me in their hearts. I can give my blood for the love and affection shown by the people of J&K for me. People should not believe some political leaders; they accuse me of joining BJP. Yes BJP respects me for my work as opposition against them. At least they don't abuse me like Congress for whom I did everything. Now Congress is begging before own leaders do my character assignation as other things don't bother me."
Replying to a question of joining PAGD after leaving Congress proposed by Farooq Abdullah, he said, "I don't need to go with anyone, I have my own identity. The question of the BJP doesn't arise at all. I will continue my fight which I started in parliament. I was sent back from the airport and could travel only after Supreme Court intervention. I am fighting this battle of securing land and jobs for J&K Youth. I can do an alliance but not with BJP. I won't speak against any party or leader. I will present my view to people. No one will be provided or discriminated against development on the basis of region, or religion. This is my mantra of governance. I swear of the constitution and believe in Allah that I won't discriminate against anyone."
He added, "My respect for Farooq sb grew after his reaction to my exit from Congress. We fought with each other politically but personal mutual respect was always there for each other. I thank him for saying good things about us. He did not say anything against us. It is good to see the tallest leader of Kashmir saying good about us."
Reacting on his reasons for exit from Congress, he said, "They have no programmes, nothing on the ground. Was showing them mirror from last five years. In 2014, I gave my party a 10-page paper on how to strengthen and work at block, district and state level, launch agitations. The paper is lying in the AICC store gathering dust. For 9 years, I was Chairman of working committee of Congress, but nothing was done. First time in history, leader from Congress party was not nominated as leader of politician, we were losing our seats. As part of G-23 , we asked the leadership to take concrete steps or see Congress falling."
On being asked when he will launch his party and what would be name of his party, he said that he will first have a tour of J&K soon.
"Thousands of people from across India will join the party. It will be a national party but J&K unit will be formed soon because elections can happen anytime soon.kns