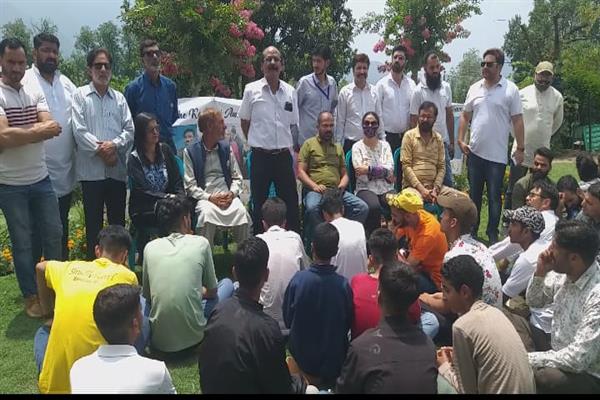 Srinagar, July 06: Global strategic policy foundation Pune GSPFP(JKL) on Wednesday organised an event in Nishat Garden area of Central Kashmir's Srinagar district to put forth the aspirations of Kashmiris to welcome G-20 summit in Kashmir.
Global strategic policy foundation Pune GSPFP(JKL) provided a platform to young voices of Kashmir to express their happiness and overwhelming welcome to proposed G-20 summit in Kashmir.
In this context one mega event was organised in heritage Mughal garden of Nishat today wherein the young and social voices from all the districts of Kashmir expressed their happiness & aspirations. While interacting with GSPFP volunteers, National Chief Dr.
Anant Bhagwat and JKL chief Firdous Baba said that Kashmiris should welcome this golden opportunity to showcase incredible Kashmir to the world leaders so that the disinformation propaganda of enimies of Kashmir, portraying Kashmir as a no-go zone for foreign tourists & foreign investment will be defeated automatically.
They said the world leaders visiting Kashmir for G-20 summit will be coming here with big contingents including media, investors, industrialists, bureaucrates, analysts, see & experience ground realities themselves & vile propaganda vis a vis Kashmir will automatically be defeated & then foreign tourists, investments, employment will flow in & open the doors of G-20 countries for Kashmiri talent. G-20 summit will facilitate speedy upgrades in infrastructure including roads, conectivity & become the highways of prosperity for Kashmir.
The young voices from different parts of the valley thanked GSPFP for providing a platform for expressing their views about this global event for which the valley of Kashmir is a perfect and a natural venue, they added.
Dr. Anant Bhagwat urged GSPFP volunteers to apprise every Kashmiri about this great opportunity knocking the door & promised on behalf of GSPFP to make sure that their voices reach all G-20 capitals and thanked GOI in anticipation, for choosing Kashmir for the summit