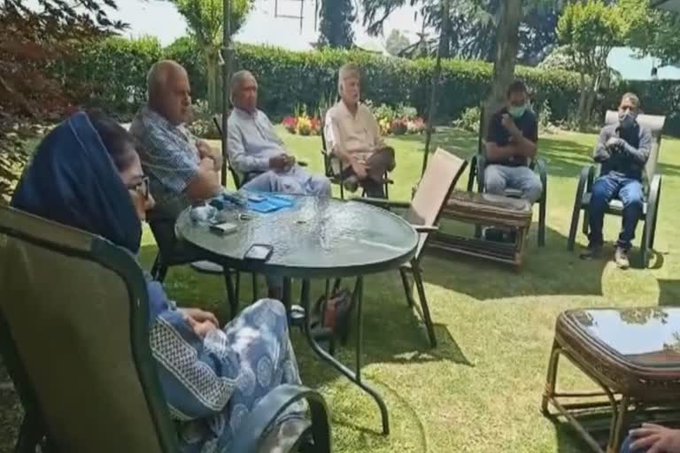 Srinagar: The lesser known political party Jammu and Kashmir Peoples Movement (JKPM) Sunday announced to have parted their association from Peoples Alliance for Gupkar Declaration (PAGD).
President JKPM, Dr. Mustafa Khan said that JKPM was being used just as a tool with the Gupkar alliance however having no clear road map. The alliance, Khan said, is left of only National Conference and PDP, who, he asserted, want their traditional family rule to persist in Jammu and Kashmir.
"We reached out to almost every single member of PAGD and demanded a clear-cut road map, which till date we never got," said Dr. Mustafa, adding, "the alliance was formed to fight collectively for restoration of the snatched identity of J&K and for the aspirations of youth and development of J&K but unfortunately the PAGD has no clear road map. All they (NC & PDP) want is their family rule to persist in J&K."
He asserted that there was no PAGD's lawyer in Supreme Court to contend the abrogation of Article 370 and 35-A.
"We don't want JKPM to be part of any political conspiracy in future against people of J&K that's why JKPM has decided to leave the PAGD", Khan said.
He went on to explain that there have been instances when both the parties (PDP and NC) first fought elections against BJP and later on remained allies with them when in power. "This only shows that they have not maintained a clear stand in the past and it is evident as of now also", he said.
Asking about the future plans, Dr. Mustafa said that future strategy of the party will be announced at the appropriate time anytime soon.
Notably, PAGD, a conglomerate of different political parties in Kashmir was formed after August 05, 2019 to oppose the Centre's decision on abrogation of Article 370, which granted special status to the erstwhile state (now a Union Territory).gns