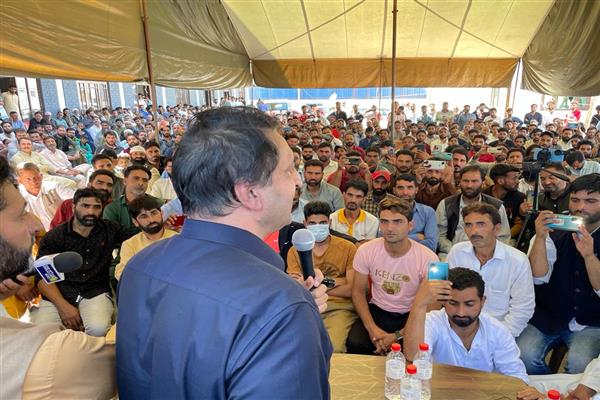 Kupwara June 25: Peoples Conference (PC) President Sajad Gani Lone today addressed a series of meetings with party workers from Lolab constituency as well as members of the Youth Peoples Conference from District Kupwara at his residence in Handwara.
While addressing a meeting of workers from Lolab constituency, Sajad asserted that safeguarding the interests of the people, especially the youth of J&K is the biggest leadership challenge in the current times.
''It is not the time to get terrified due to the tough ordeals of the present time. It is the moment to stay far-sighted, firm, and resolved to get Jammu and Kashmir out of the present cycle of uncertainty. It is a long game; the leadership will have to be patient if we want to achieve something for the people of J&K. People's Conference is the party that has the legacy of sacrifices. We will continue to strive to accord people a dignified way of living', he said.
Addressing the meeting of Youth Peoples Conference, Kupwara, PC President emphasised on the need for young leaders to be connected with the people at the grassroots level, have their voices heard and become partners in the decision-making process.
"PC is committed to promote active participation of youth at every level in the party and give them bigger responsibilities. Active and meaningful participation of the youth is imperative to address the challenges that have an impact on them and their future. We are committed to create spaces for the youth to take the mantle of responsibility and play a pivotal role to facilitate J&K's transition from changelessness to change', he added.
On the occasion former PDP Zonal Secretary North Kashmir Mohd Ashraf Malik joined the PC in presence of PC President Sajad Lone and senior leader Mir Mohammad Fayaz.
While welcoming the new entrant, PC President Sajad Lone said that ''this is a march; new people have joined the party. I am confident that our team will be able to navigate the people of J&K through these difficult and challenging times. We have already emerged as a formidable political force. Together, hopefully, we will write a new chapter in the frontier district.''