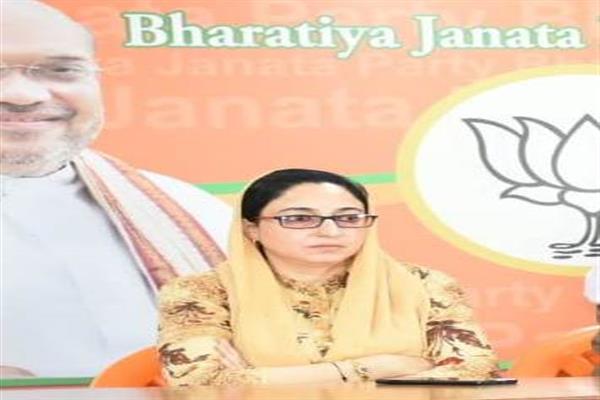 Srinagar, May 29: BJP National Executive Member, party Spokesperson and Chairperson of J&K Waqf Board , Darkshan Andrabi, has reacted sharply to the allegations of PDP Chief Mehbooba Mufti that Modi government was fighting Gupakiris and defaming them.
Dr Andrabi, in a statement, said that police only cracks down on "enemies of peace, terrorists and terror sympathizers, but Mehbooba calls them innocents and advocates for them".
"We don't need to defame Gupkaries; their own record of seven decades of political exploitation of the people of J&K is following them like a haunted shadow. They are not scared by PM Modi, but by being exposed in front of all," she said.
She took a dig at the role played by these Gupkaries in nourishing the separatist sentiment among youth for their political gains in J&K and according to her are now feeling frustrated to see their separatist support-system being dismantled erased from its base in J&K on which their political mansions existed.
"The iron-fist policy towards all terror-sympathizers & separatists in J&K will continue and so will continue the wailing of the irrelevant politicians for keeping themselves in news only."
She thanked the sane population of J&K for their decision to work for peace, development & for revival of inclusive culture of Jammu & Kashmir rejecting these sentiment-selling exploiters for all times to come.