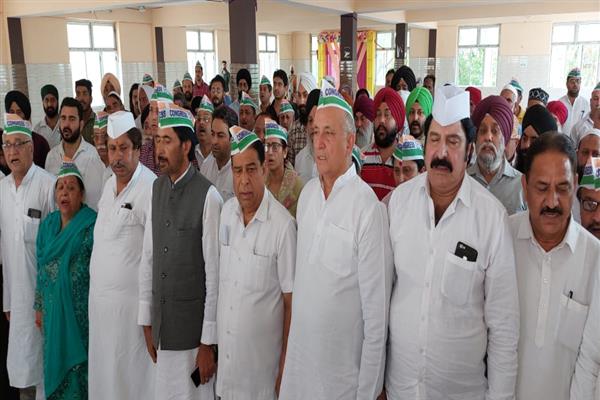 Jammu, April 25: Congress today organised a "Sarv Dharam Prarthana Sabha" in Jammu today to pray and give a message of peace and religious harmony in the wake of attempts to vitiate the atmosphere of social and religious harmony in the country besides denouncing politics of Vendetta.
Led by JKPCC Chief G A Mir and attended by senior Leaders and Activists, the religious and spiritual personalities of Hindus, Sikhs, Muslims and Christians gave their religious discourse which contained a message of peace, religious Brotherhood and harmony besides oneness of God
. They enlightened the gathering that no religion preaches hatred towards other religions and every religion preaches right path of service of humanity and peace.
They appreciated the Congress party for the initiative to spread the message of peace religious brotherhood in the society.
Working President Ramân Bhalla Chief Spokesperson Ravinder Sharma, vice president Kanta Bhan, Yogesh Sawhney, Balwan Singh, Manmohan Singh, Th Balbir Singh, Indu Pawar, Shabir Ahmed Khan, Rajnish Sharma, Gurdarshan Singh, Shiv Kumar Sharma, Rajesh Sharma,Udey Bhanu Chib, Dina Nath Bhagat, Gajan Singh, Pawan Raina, Shashi Sharma, Sanjeev Panda, Th Kamal Singh Corporator, Ch. Hussain Waffa, Dr R K Khajuria, Kapil Singh, Sahil Sharma, Rajveer Singh, Babbal Gupta, Sonu Dogra, Rajinder Singh, S. Rajinder Sing Nathu, Ricky Dalotra, Sahil Langeh, M/S Tamana, Gurmeet Singh and others.
Earlier Seva Dal team sung the famous Bhajan of Mahatma Gandhi ji " Raghupati Rahgav Raja Ram, Pati te Pawan Sita Ram—"
Addressing the gathering JKPCC Chief G A Mir expressed grave concern over the atmosphere of politics of hate and political Vendetta which are dangerous for the social and secular and democratic atmosphere.
He said that provocative and mischievous activities are taking place with a nefarious design to disturb peace and traditional harmony in the country. He said that attempts to vitiate the atmosphere of religious brotherhood is very dangerous for the multi religious, multi lingual and multi cultural nation .
He also lodged a strong protest of the party over the politics of vendetta and termed it political intolerance of BJP and Modi government. He said opposition Leaders of Congress party are being booked and framed under stringent laws like Jignesh Mevani MLA Gujrat în order to deter opposition to stop them to speak against ruling party. It is Dangerous for the democratic system and against Constitution , which guarantees freedom of speech and expression and right to protest.