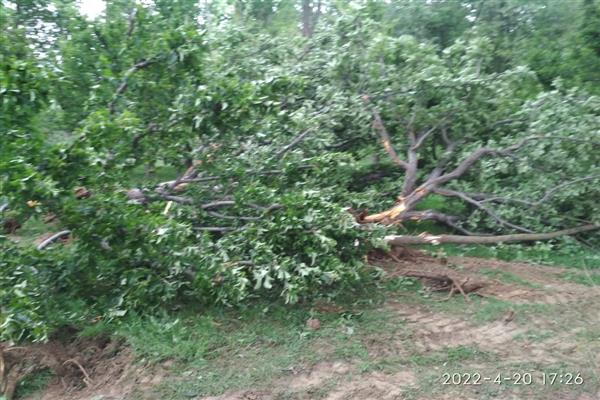 Srinagar April 25:  An aggrieved apple grower from Srinagar who owns a an apple orchard near Sozeth Narbal on Srinagar Baramulla highway has appealed LG Manoj Sinha to intervene as his 60 fully grown apple trees have been uprooted and axed by National Highway Authority of India (NHAI) assisted by officials from District Administration Budgam.
Details available reveal that the Government is acquiring around one acre land (8 kanals) owned by one Altaf Hussain Shawl at Sozeth and Mirgund villages on Srinagar Baramulla highway for the Srinagar Ring Road project. The land owner told reporters that he has not been paid any compensation as the matter is sub-judice before J&K High Court.
Shawl, like many other land owners, wants fair compensation as per central law (RFCTLARR Act 2013). Shawl's 150 fully grown apple trees are coming to the alignment of this road. The National Highway Authority of India (NHAI) on April 20th 2022 uprooted his 60 apple trees (aged 18 to 22 years) without any notice, he said
" The notification for acquiring my one acre land in Mirgund and Sozeth villages was issued in 2017 by Govt under the erstwhile J&K Land Acquisition Act 1934. The notification under section 6 of that act lapsed due to efflux of time in 2019. Fresh notification was to be issued under existing law (RFCTLARR Act 2013). Govt is adamant & continues to follow the repealed law of J&K. Our case is sub judice in the High Court. The Govt misinterpreted the recent order of the court which asked NHAI to go ahead with construction work. The said High Court order was for those areas where people had received compensation money even under repealed act. In my case , neither compensation for land nor for fruit bearing trees has been paid. Our trees have been axed mercilessly. This is simply an act of transgression. I appeal LG Manoj Sinha to intervene as he is himself a farmer " Shawl added
Pertinently there are many similar cases wherein people allege forcible land acquisition and uprooting of fruit trees.
In Wathoora village of Budgam around 100 plum and apple trees were uprooted by Govt and NHAI for Srinagar Ring Road on March 30th last month. The land owners say that they have been paid compensation as per 28 year old rates when plum per kg rate was Rs 13 and apple was sold @ Rs 16 per kg ? In Gudsathoo and Budoo Bagh areas of Budgam hundreds of apple trees were axed last year in November. In Rambir Grah area of Srinagar more than 400 apple trees were axed and compensation was paid as per 26 year old rates. Cherry and apple trees were axed in Theed Harwan also and construction work started on a land belonging to one Bashir Ahmad Bhat. The owner alleges that he has not been paid any compensation till date and Govt forcibly started construction of power transmission towers in his land . kns