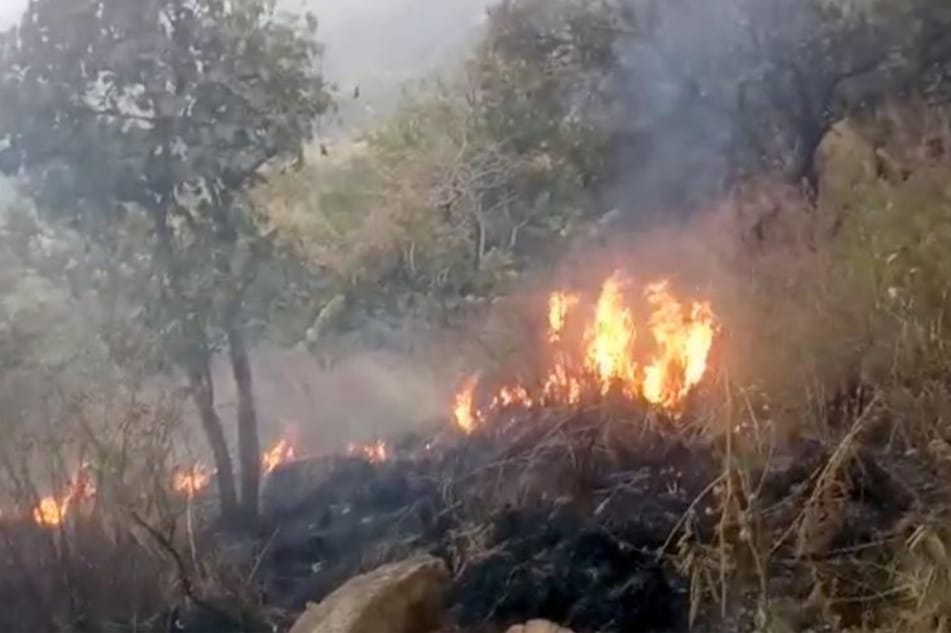 Srinagar, Apr 08: Frequent fire incidents in forests of Tral sud division of South Kashmir's Pulwama district has been swallowing green gold besides producing a huge amount of smoke, spreading respiratory problems.
In the last few weeks, major fire incidents have been reported from different areas in Tral-Khrew forests causing damage to green gold.
Fire incidents have been reported in Pastuna Aripal and Shahjan forests in the recent past while fire is yet to be controlled in Aripal forests.
Experts believe that frequent fires at large scale cause air pollution, affect water of streams, threaten biodiversity and spoil the aesthetics of an area.
Whenever fire erupts, mostly only casual labourers are being sent to douse the flames while permanent staff and other officials watch the scenes from safe zones, they said.
Mainly, they said that such incidents would occur in autumn but this time because of dry and hot weather in spring, many incidents have been reported in the Valley.
Official sources said that despite using dozens of employees of different departments and local youth on volunteer basis to douse fire in Aripal forests, it hasn't been fully controlled yet.
An official told KNO the fire is yet to be controlled fully and blames dry weather for the cause of the fire.
He said that because of dry weather, a spark can trigger fire. He added that men and machinery are on job to control fire
Forest fire continues to rage in Bandipora
Forests in north Kashmir's Bandipora are up in flames for the last one week with the forest department blaming dry weather for the fire.
Forest fire at multiple locations has emerged as a major problem as the fire is not only swallowing green gold, but is also producing a huge amount of smoke, spreading respiratory problems among the local population since last week.
An official said that dozens of incidents of forest fire have taken place at multiple locations and hundreds of trees have burnt during the last several days.
"Yesterday evening the fire started in compartment number 108 and 109 of Khuihama forests in Bandipora. Since then, the fire was raging and authorities pressed men and machinery into service to douse the fire," the official said, adding that damage will be assessed once the fire is controlled completely.
Residents of many villages in Bandipora including Aythmullah, Ajar, Sonrwani, Madar, Greenland Colony and Arampora have complained that they are facing suffocation as there seems to be no end to the forest fire.
On April 2, a massive fire was also reported in compartment No 144 in Mulkihama area falling under Ajas forest range of Bandipora during which three forest officials were injured while dousing fire. The fire was brought under control two days later leaving thousands of trees damaged.
Similarly, last week, a major fire caused severe damage in Khayar forests in the district where the fire was raging for about three days.
While terming dry weather as a cause of rising fire incidents, Divisional forest officer (DFO), Bandipora Shabir Ahmad said that there is no serious loss in the forest areas while multiple teams would keep a watch on these areas. kno