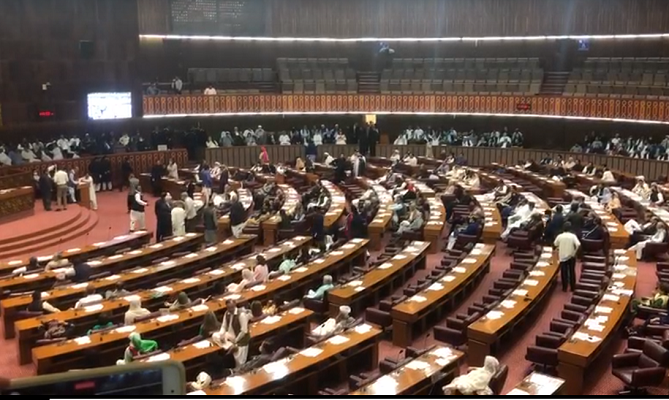 ISLAMABAD: National Assembly Deputy Speaker Qasim Suri on Sunday dismissed the no-confidence motion submitted by the joint opposition to dislodge the prime minister as he termed it "unconstitutional" under Article 5, Express Tribune reported.
The ruling read by Suri prompted strong protests from the opposition benches who surrounded the desk of the speaker to record their protest.
Suri said the resolution could not be voted upon as it was allegedly supported by a foreign power and violated Article 5. Suri, who chaired the session in the absence of Asad Qaiser, also adjourned the session indefinitely.
As the session started, Information Minister Fawad Chaudhry addressed the assembly and termed the no-confidence motion a "foreign conspiracy" to change the regime in Pakistan.
Fawad said the no-confidence motion tabled under Article 95 was a "democratic right" in ordinary circumstances. Quoting Article 5, Fawad said loyalty to the state was the duty of every citizen.
The information minister said that on March 7, a Pakistani envoy posted in a foreign country attended an official meeting in which it was said that a no-confidence motion would be filed against Imran. He claimed, "We were told that the relationship [of the foreign power] with Pakistan depended on the outcome of the no-confidence motion.
It was also said that everything would be forgiven if the no-trust vote succeeded, he claimed, adding that Pakistan was told things would become difficult if the motion failed.
"Unfortunately, attempts are being made to change the regime at the behest of external forces," he claimed. According to Fawad, that was not a matter of the no-confidence motion but an issue pertaining to Article 5-A. He added, "Is the state of 220 million so weak that external forces sit here and change the governments."
"Can a regime be changed…are the people of Pakistan puppets, do we have no status…are we slaves," he asked. He urged the speaker to give a ruling on Article 5-A.
His address resulted in a hurriedly read ruling from Suri who declared the motion against the premier "unconstitutional" which resulted in strong backlash from the opposition. (Express tribune)