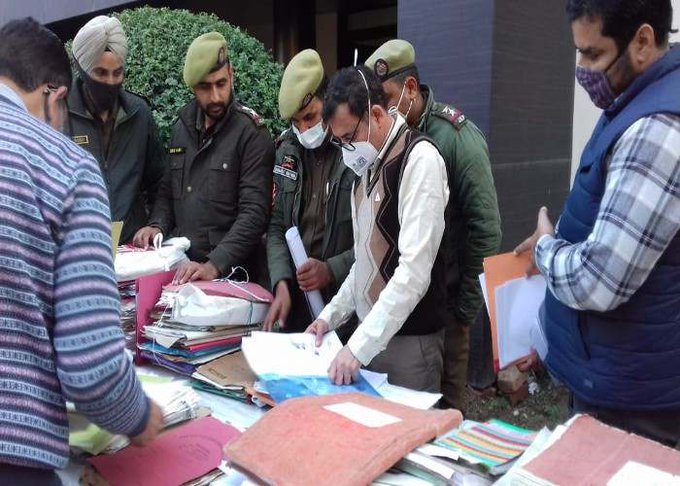 Jammu, Mar 02: Patwaris and Girdawars of Jammu district remained on strike for on Wednesday against the arrests of revenue officials including patwaris in connection with the missing revenue documents of village Sunjwan and Chowadhi of Bahu tehsil of the district.
Officials said that revenue work at district headquarters as well tehsil offices were affected during this period. "Patwaris and Girdawars staged a sit-in protest in the District Deputy Commissioner's office," they said.
In a meeting with Divisional Commissioner Dr. Raghav Langar and Revenue Department's Finance Commissioner Shaleen Kabra, the Patwaris were assured to look into their demands.
"But the adamant Patwaris have decided to stop the work on Thursday as well as their collogues were not released from the police custody till this report is filed," the officials said.
"The Patwaris of Jammu district under the banner of All Jammu and Kashmir Patwari Association UT (AJKPAU) has warned to start fresh agitation at the districts and UT level in case the demands are not addressed soon."
However, in other districts, revenue work  remained normal and the revenue officials attended their workplace.
Patwaris and Girdawars of Jammu district started a sit-in on Wednesday morning in the District Deputy Commissioner's office premises.
The speakers alleged that the Patwaris and other officers were being harassed unnecessarily in the matter of missing revenue records of bahu Thasil, in which an FIR was logged at police station Channi Himmit.
"We are ready to cooperate in every investigation, but administration should not harassed us like this," a protester said adding "Police got license to publicly shame the revenue officers in the name of investigation, anyone is being called and arrested in full public view".
"Patwaris are sincerely engaged in expansion work of revenue records along with other duties," said association head, Vinay Kumar.
He informed that Divisional Commissioner and the Finance Commissioner have assured to look into our demands but we will continue our stir until our collogues were not released.
He said Patwaris of Jammu will not work on Thursday also and if it needed will be done at the districts and UT level.
The Patwaris has come out in protest against the arrest of two more revenue officials in case of missing revenue records of village Sunjwan and Chowadhi of Bahu tehsil.
Earlier, on Tuesday, the employees and Girdawars announced to go on a one-day leave of work strike on Wednesday. This decision has been taken in a meeting that lasted five and a half hours on Tuesday in the DC office premises.
Also, a general meeting has been called on Wednesday. The workers have threatened to go on an indefinite strike if the arrested patwaris are not released within 24 hours.
The agitating revenue officials alleged that higher up targeting the lower rung officers to hide their incompetency.
"There are no Patwarkhana for Patwaris to keep record protected. We are saving revenue record by his our own arrangements. Patwari and Girdawar are currently busy day and night in the expansion work of revenue records. The work of 700 villages out of 914 in the district has been completed," he said.
Meanwhile, due to ongoing strike of Patwaris and Girdawars, the routine revenue works like obtaining of revenue records, unemployment certificate, verifications, income certificate, SC, OBC certificates, Intkal, Jamabandi, Nishandehi etc. activities remained affected.
Earlier, Jammu police has said that police have taken the two more patwaris into custody in the missing records case of the Revenue Department. Both attested officials were on eight day remand. The interrogation of both is on and many more revelations are likely to happen soon.
On Monday, Chhani Himmat police arrested Sarwal, resident of Patwari Bashir Ahmed of Bishnah Delhi Halka and Akhnoor resident of Gharota Patwari Sushil Kumar.
So far, six people, including a property, have been arrested in the case, including three former revenue officers and two present officers.
The records of the revenue department had disappeared in Chowadhi and Sunjwan areas of the city.
After this, the department and the police raided 13 locations and seized the missing records.
As soon as the investigation started, three former officers of the Revenue Department and a property dealer were arrested. Later two current patwaris have been caught. According to sources, the original documents in the case are not in the hands of the police. kno