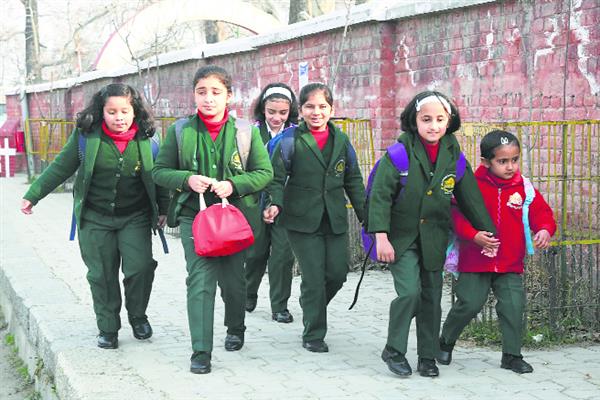 Srinagar, Mar 02: After a gap of nearly two years except for a few months, nearly 13,000 schools in winter zones of Jammu and Kashmir divisions reopened on Wednesday reopened for physical academic activities.
The schools were initially closed in March-2020 following the outbreak of COVID-19 that led to closure of all educational establishments.
The schools in the Kashmir division were again thrown open in March-2021, however in the first week of April-2021; the establishments were closed again following the surge in COVID-19 cases. Later, in the end session of the academic year, the schools again reopened for the regular academics.
In December, the government announced winter vacations for all schools of Kashmir division and winter zones of Jammu region from December 6 and 13 to February 28.
The officials of Higher Education Department said that there was a good footfall of students in almost all colleges of the valley and winter zones of Jammu division.
Jubilant scenes were seen outside in almost all the schools which reopened today and students were excited to attend the classes physically.
One of the students, Sabira-Nissa, said "Online classes were very little fruitful to us. Sometimes, the high speed internet blockade added to our miseries. We couldn't comprehend what was being lectured online as technical cuts always spoiled the very purpose of online lectures."
She said that this first-time experience of online classes was more than a disaster as there were more losses than the gains during the entire period.
Zahid Riyaz, another school student, said that attending academics physically after a huge gap was joyous as she was able to meet her friends and witness lectures offline.
"Moreover, remaining confined to four walls only was mentally disturbing the students. We badly needed this opportunity to resume classes' offline. We hope that there is no untoward incident which would hamper the normal work in schools and other educational establishments," he said. Meanwhile, teachers and parents were seen upbeat over re-opening of Schools. kno