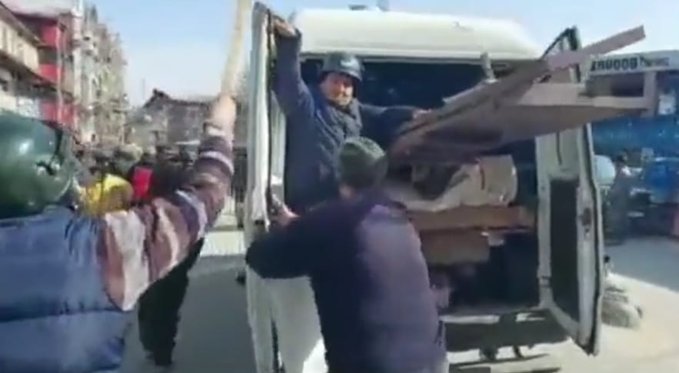 Srinagar, Jan 28: Srinagar Municipal Corporation (SMC) has come under severe criticism from netizens after several of its teams on Friday allegedly vandalised many carts during anti-encroachment drive here in summer capital. 
In several videos that went viral on social networking sites, street vendors were seen screaming for help after their goods were vandalised and carts were bundled away by the officials of SMC's anti-encroachment squad in Jahangeer Chowk and LD (hospital) areas of Srinagar city, hours before the commencement of weekend lockdown.
"Look how they (SMC officials) are snatching our livelihood, where will we go? I've a family to feed. What will we do?" one of the street vendors' can be seen screaming loudly in a video clip.
"I'm a father of four girls, what wrong I've done to you, please don't do this, where will I go," another street vendor says.
"It's was a Jummah today, we were preparing to offer Salah, but they (SMC officials) didn't allowed us to offer Salah, they came suddenly and vandalised everything, they could have informed us an hour before, this is complete lawlessness", another vendor said.
The action of SMC is 'illegal and unlawful as per Supreme Court directions', remarked a Twitterati.
"All existing street vendors/hawkers operating across the country shall be allowed to operate till the exercise of registration and creation of vending/ hawking zones is completed in terms of the 2009 policy", Sheikh Irfan Gulzar wrote on twitter.
"How insensitive and inhumane can one be to call for this? If you can't provide them a proper vending zone then you have no right to snatch their livelihood either. These anti-encroachment drives show the failure of @SMC_Srinagar in providing them a proper vending zone," wrote another local Ateeb Imtiyaz.
Reacting over the incident, Political Analyst Iftikar Misgar wrote, "We are in 3rd season of #Covid19. This time we are not facing something new and unexpected. But what Govt has kept for those who will have no choice but to breach lockdown coz they have to feed their families. Is anybody listening."
Backing the officials' action, SMC's Chief Enforcement Officer said that the drive was carried out under the supervision of Commissioner himself. "Due to encroachment of roads in the city, the commuters as well as pedestrians are facing a lot of inconvenience on a daily basis."
Upon being asked of the resentment over the 'way' to handle the situation, he said that vendors were warned on a daily basis in the past too but they haven't bothered.
He said the goods and other things seized by the squad will be released and handed over back to the vendors after payment of due fine and completion of other paperwork.
The official further informed that a separate space has been sanctioned for radiwallas near Khalsa school in Saraiballa. "Hopefully the modalities on it are worked out soon."
Srinagar administration in a tweet also reacted: "Let it be clear. It was not part of any enforcement measures aimed at imposing Covid restrictions." gns