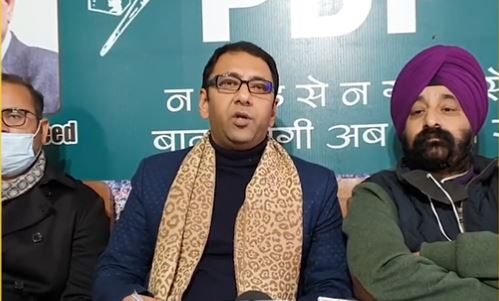 Jammu, Jan 24: Peoples Democratic Party (PDP) on Monday demanded inquiry into illegitimate fund transfer to 19 account holders identified by Comptroller and Auditor General of India (CAG) report and said that the issue was raised in a manner to deliberately target the party.
Addressing a press conference, former MLC and PDP spokesperson, Firdous Tak, said from the last few days, the issue of the CAG report has been deliberately highlighted with an aim to target the party by the government.
He said that when PDP took over in 2015, the priority of Mufti Mohammad Sayeed led government was to restore the infrastructure damaged by 2014 floods and make the state again financially healthy.
Tak claimed that under leadership of Mufti Sayeed, the administration somehow successfully restored all major projects. He said the issue of CAG, which observes financial irregularities, needs proper investigation.
PDP leader further said that Prime Minister Package of Rs 80313 crores were granted to Jammu and Kashmir and then State government took eight components in its hand which included rehabilitation of flood victims, rehabilitation package for Jammu migrants, rehabilitation of different categories of Pakistan refugees, Interest Subvention Scheme for Industry and raising of five battalion of IRP.
Tak said that CAG gave its observation on five schemes. However, as assessment the then government provided assistance to around 2.35 lakh house owners, whose property were partially or completely damaged during floods.
He said the financial assistance were provided directly to the account of beneficiary in three heads i.e. State Disaster Relief Fund, PM National Relief Fund and PM Development Package for rebuilding damaged houses.
The second assistance was given to Jammu Migrants, which got relief at par with Kashmiri counterparts and one time relief for Pakistan refugees was also initiated in Nov 2015 by PDP.
Tak further added that Interest Subvention Scheme was introduced for the assistance to around 80 thousand traders and business units to the tune of Rs 800 crore that suffered damage due to 2014 floods.
"28246 businessmen were identified as major units while 50081 traders whose annual turnover is not more than Rs 10 lakh but they were severely affected by floods," he said, adding, "The scheme was basically assistance to business houses where state governments pay their interests to bank".
Tak said it is quite unfortunate that some people manipulated the CAG observation, thus sought an inquiry into illegitimate fund transfer to 19 account holders identified by CAG.
Earlier, CAG pulled up the former J&K government on non-transparent expenditure. CAG identified fudging of more than Rs 10,000 crore in receipts and expenditure under the 'minor head 800'.
The report tabled before Parliament by the national accounting watchdog on J&K's finances pertains to the PDP-BJP rule in the erstwhile state in 2017-18.
J&K was placed under Governor's rule in June 2018, after the BJP withdrew its support to the Mehbooba Mufti-led PDP.
Later, the state was placed under President's rule, following which the Union government abrogated Article 370 and bifurcated the state into two Union territories – Jammu and Kashmir and Ladakh. As per the Jammu and Kashmir Reorganisation Act, J&K is now a Union Territory (UT) with legislature.
According to the CAG, there were persistent errors in budgeting, savings and excess expenditures by the state government. "Excess expenditure requiring regularization of the state legislature was Rs 1,14,061.35 crore, as on 31 March 2018," said the report.