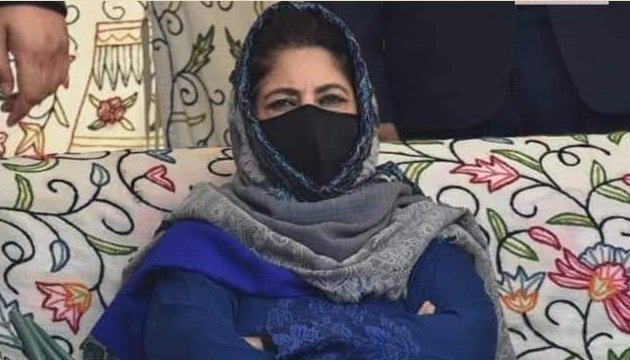 Jammu, Jan 18: Peoples Democratic Party (PDP) President Mehbooba Mufti on Tuesday said that the existence of Jammu and Kashmir is in danger under the rule of Bhartiya Janta Party (BJP).
Addressing a gathering of youth from border belt R S Pura at the Party Headquarters here, Mehbooba said that that BJP led government has turned entire J&K into a laboratory where experiments are conducted on daily basis.
"Our youth have been pushed into hopelessness. They (BJP) have connived with big corporate houses and industrialists to exploit and loot the resources of Jammu and Kashmir. Big corporate houses coming to J&K are hiring people from outside while our unemployed youth are moving from pillar to post for livelihood. They want us to become so poor that we become totally dependent on other states," the PDP President said.
She was addressing a large number of political workers who joined PDP under former Vice Chairman Bhushan Lal Dogra here.
She said the PDP can't alone take this fight to a logical end and the youth will have to come forward to play a decisive role.
"These are the times of the youth, for the youth. The mantle of responsibility has befallen the youth of J&K to shape a brighter future and secure our rights for the coming generations. We will have to unitedly fight against the forces which are bent on ruining our future," Mehbooba said.
The PDP Chief said the former Prime Ministers Jawaharlal Nehru, Indira Gandhi and Atal Bihari Vajpayee had envisioned mega rail projects, setting up of new industrial units, construction of better roads and hospitals for the welfare of the people but the present dispensation has no such plans as they are bent on dividing the people on communal lines for petty interests.
"In the last 2-3 years, over 40,000 millionaires became billionaires while the number of poor people in the country has doubled under BJP rule. They have no plans to get rid of the problem of growing unemployment among the youths," she said.
"They have ruined the country in the present situation, one feels insecure and does not know whether he or she will be alive tomorrow or not. They started their clandestine designs with Jammu and Kashmir where the situation is much worse than the rest of the country," Mehbooba said, adding "the existence of Jammu and Kashmir is in danger under the BJP and the youths have a greater responsibility as the coming generations will question their stand in the face of the BJP's onslaught on their identity and culture".
The PDP Chief said the communing coming generations would ask about our stand against them (BJP that snatched Article 370 and looting our resources).
"They will question whether we fought this onslaught or surrendered. If we stay silent, nothing is going to happen," she said.
The PDP leader also hit out at the administration for 'targeting' poor people.
"Their own leaders have encroached upon a huge chunk of land and they have built palatial bungalows over state land but they will not take any action against them. On the other side, poor people–irrespective their caste, creed and religion—who have constructed small houses with their hard earned money are being driven away. It exposes their duplicity and policy of deceit," Mehbooba said.