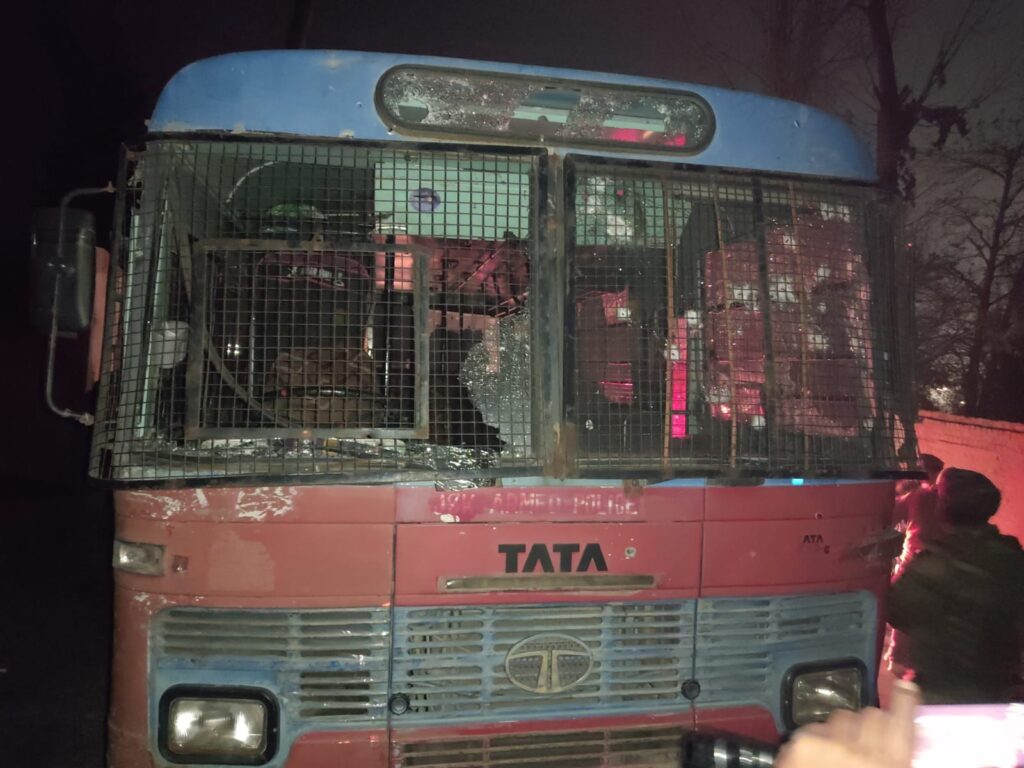 Srinagar, Dec 13: Two policemen including an Assistant Sub Inspector (ASI) were killed and 12 others injured, two of them critical, after militants attacked a police bus at Zewan area of Srinagar on Monday.
A police official said that at around 6 pm, militants fired indiscriminately at a bus ferrying policeman from Armed Reserve Police (ARP) 9th battalion at Zewan area of Pantha Chowk, Srinagar. "In the incident, 14 policemen were injured of which two succumbed at the hospital," he said.
. The official said that the two slain were identified as ASI Ghulam Hassan ARP-861250 and selection grade constable Shafiq Ali belt number 782/AP9th ARP091317. The injured were identified as Bishember Das, Sajad Ahmed, Rameez Ahmed, Sanjay Kumar, Vikas Sharma, Ab Majeed, Muasdhir Ahmed, Ravi Kant, Showkat Ali,  Arshid Muhammad, Liyaqat Ali and Narender Singh, the bus driver.
The official said that the vehicle was coming from Srinagar after performing their duties back to Armed Police Complex Zewan towards Pantha Chowk. The bus ferrying policemen suffered immense damage while blood stains were visible on the seats and bullet marks from all sides, especially the front portion as suggested by the pictures viral on social media.
An eye-witness said that locals helped policemen evacuate the injured to the hospital.
A police source said that at least three injured policemen were critical who are being treated at army base hospital at Badamibagh, Srinagar while others are stable. Witnesses said that the traffic remained disrupted for almost an hour on the Zewan-Panthachowk-Khonmoh road and was later restored after the police bus that was attacked was removed from the scene.
Police sources said that the Zewan attack is this year's deadliest attack by militants. Today's attack came just two days after militants killed two policemen at Gulshan Chowk, Bandipora. The Zewan attack also came barely a few hours after police killed two Lashkar-e-Toiba militants including a foreigner in a chance encounter at Rangreth area of Srinagar outskirts.
In a statement, Inspector General of Police (IGP) Kashmir Vijay Kumar said that credible sources revealed that the attack was carried by Kashmir Tigers, an offshoot of Jaish-e-Muhammad militant outfit.
"In retaliatory firing, one of the militants got injured and the group involved in this gruesome militant attack will be soon brought to justice," the IGP said.
A top police official said that 25 policemen were coming back to police armed complex Zewan after performing duties in Srinagar. "The attack signifies that a new group is active. Our parties are working and we will soon catch this new module," he said. "Area has been cordoned off. We have launched an operation in the area to track down the attackers."kno