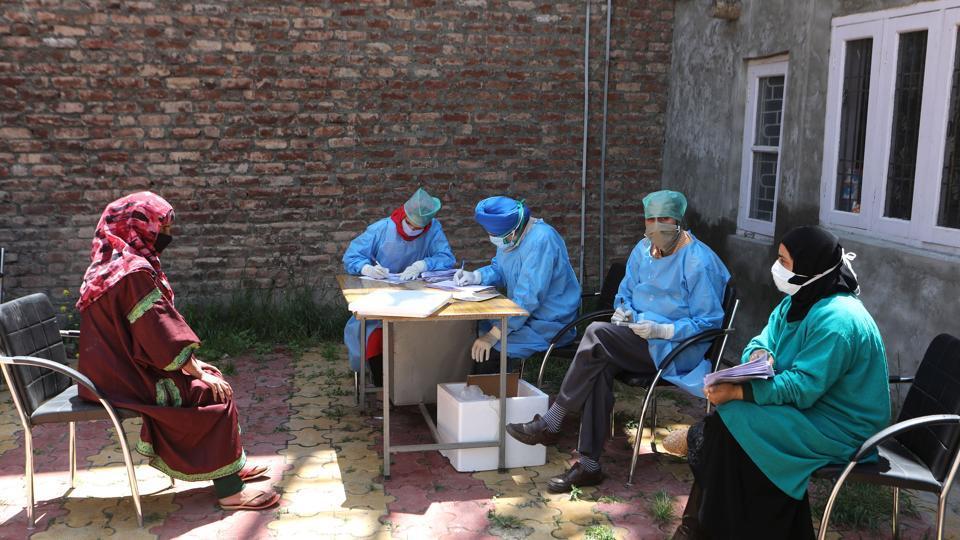 Srinagar, Oct 18: Jammu and Kashmir Monday witnessed two deaths and 75 fresh positive cases taking the number of total active cases in the Union Territory to 816.
With two more deaths, the death toll in the UT has reached 4,428 and 75 fresh positive cases reported on Monday have pushed the tally of positive cases to 331,137.
Of the exact number of 331,137 cases, 206,946 are from Kashmir division and 124,191 from Jammu division.
Officials said  that among 75 new cases, 63 belong to Kashmir division while as 12 are from Jammu division, adding that the total number of positive cases in Kashmir division have reached to 206,946 including 204,007 recoveries and 2,253 deaths while as total number of positive cases in Jammu division have reached to 124,191 including 121,886 recoveries and 2,175 deaths.
The officials said that the total number of active cases in Jammu and Kashmir are 816 including 686 from Kashmir division and 130 from Jammu division.
With 100 more recoveries, the tally of total recoveries in Jammu and Kashmir has reached 325,893 which is 98.42 percent of the total cases.
"Cases tested positive in J&K include 39 from Srinagar, 10 from Baramulla, 01 from Budgam, 03 from Pulwama, 04 from Kupwara, 03 from Anantnag, 00 from Bandipora, 01 from Ganderbal, 02 from Kulgam and 00 from Shopian in Kashmir division while as 12 from Jammu division include 07 from Jammu, 00 from Udhampur, 00 from Rajouri, 03 from Doda, 00 from Kathua, 00 from Samba, 00 from Kishtwar, 00 from Poonch, 01 from Ramban and 01 from Reasi," officials disclosed.
Meanwhile, authorities on Monday said that no fresh cases of Mucormycosis popularly known as black fungus was reported in the UT and tally stands at 48.
As per officials figures, 74,985 positive cases including 843 deaths and 73,743 recoveries are from Srinagar, 24,466 including 282 deaths and 24,084 recoveries are from Baramulla, 23,730 including 23,447 recoveries and 207 deaths are from Budgam, 15,504 including 15,295 recoveries and 194 deaths are from Pulwama, 14,421 including 166 deaths and 14,220 recoveries are from Kupwara, 16,576 including 16,347 recoveries and 205 deaths are from Anantnag, 9,791 cases including 9,667 and 102 deaths are from Bandipora, 10,384 including 10,293 recoveries and 79 deaths are from Ganderbal, 11,482 including 11,362 recoveries and 117 deaths are from Kulgam and 5,607 including 5,549 recoveries and 58 deaths are from Shopian.
In Jammu division, 53,271 including 52,083 recoveries and 1,145 deaths are from Jammu district, 11,410 including 11,269 recoveries and 137 deaths are from Udhampur, 11,264 including 11,022 recoveries and 237 deaths are from Rajouri, 7,834 including 7,671 recoveries and 133 deaths are from Doda, 9,321 including 9,170 recoveries and 151 deaths are from Kathua, 7,152 including 7,030 recoveries and 120 deaths are from Samba, 4,817 including 4,773 recoveries and 44 deaths are from Kishtwar, 6,469 including 6,342 recoveries and 98 deaths are from Poonch, 6,038 including 5,970 recoveries and 67 deaths are from Ramban and 6,615 including 6,556 recoveries and 43 deaths are from Reasi.
As per the daily information bulletin 3,669,979 persons in Jammu and Kashmir are under observation while 7,877 persons have been kept under home quarantine besides that 816 persons are in isolation.
According to the bulletin, 3,202,359 persons have completed the surveillance period and 454,499 persons are under home surveillance besides that so far results of 15,714,258 samples are available. Out of 15,714,258 the number of samples tested negative stands at 15,383,121'while as 331,137 have tested positive, among them 816 persons are active, 325,893 persons have recovered and 4,428 persons have died.