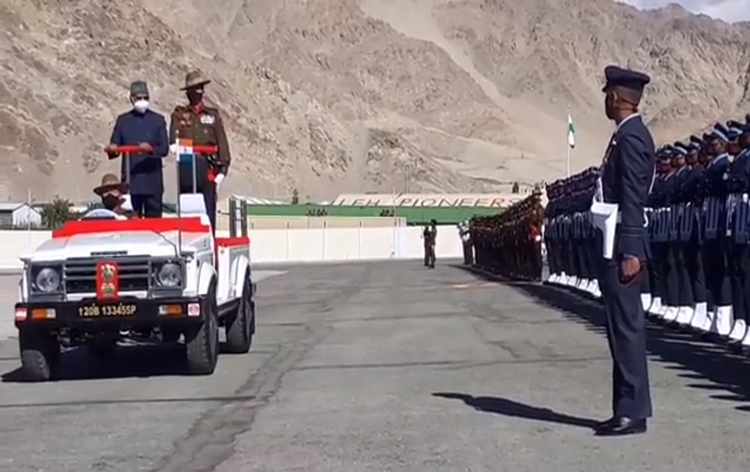 Srinagar: President Ram Nath Kovind reached today on a two-day visit to Ladakh and Jammu and Kashmir, the All India Radio reported.
On the first day, Kovind along with his daughter Swati Kovind arrived in Leh to offer Sindhu Darshan puja at Sindhu Ghat, and reached Udhampur in the afternoon. At Sindhu Ghat, Buddhist Monks recited prayers followed by the all religion prayers for universal health, peace and prosperity, reports said.
On arrival at the Ghat, amidst traditional music, President Kovind had given a Ladakhi welcome, while CEC Tashi Gyaltson offered Khataks and LG a Momento. Kovind also witnessed patriotic cultural program presented by school children. Impressed with the program, President extended invitation to the students to Rashtrapati Bhawan. Before Sindhu Darshan Puja Ladakh LG RK Mathur called on the President Kovind and interacted on Ladakh progress as Union Territory, added media reports.
President Kovind returned to Udhampur in the afternoon after the Sindhu darshan puja. Earlier in the morning, President Kovind was received by Ladakh Lieutenant Governor RK Mathur at Leh airport. LAHDC Leh CEC Tashi Gyaltson, MP Jamyang Tsering Namgyal, Northern Command GoC LtGen YK Joshi, Fire and Fury GoC LtGen PGK Menon, Air Vice Marshal Tajinder Singh, Leh Air Station Air Commodore Subroto Kundu, Ladakh ADGP SS Khandare senior UT officials were also present, said reports.
Kovind would visit Kargil War Memorial in Drass on Friday. The President and the Supreme Commander of Armed Forces would lay a wreath at Kargil War Memorial. Senior Army officials would brief him about Kargil war. He also participates in Shastra Pooja to celebrate Vijaya Dashami on Friday. Later the President Kovind will interact with the troops at the war memorial. (airnews)