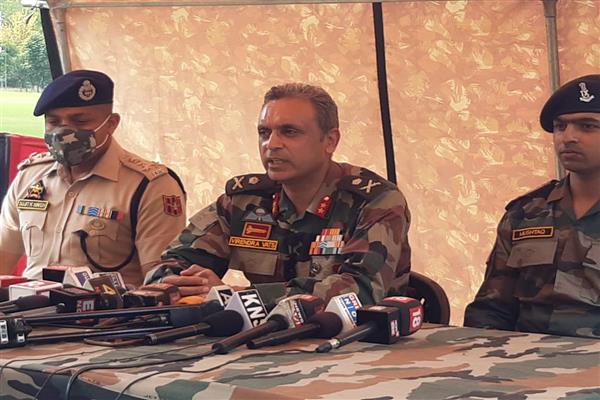 Uri, Sept 28: 19 years old militant namely Babar hailing from the Punjab region of Pakistan has captured alive by surrendering in the bordering town of Uri. 
Addressing a media fraternity here , Major General Virendra Vats, GOC, 19 Infantry Division, said that a 19-year- old militant was also apprehended in keeping with the "ethos and value system of Indian army that we do not use force against any unarmed person."
Divulging information about the military operation, GoC, 19 Division Virendra Vats told media that military operation against infiltrators started on 18 September night when a search party observed the movement of infiltrators.
"The infiltrators were 6 in number. Four among them took advantage of darkness and retreated back to Pakistan after a firefight while two were holed up in a nallah. During the fire fight one infiltrator was neutralized while another was captured alive," he said.
GoC, 19 Division Virendra Vats said that the militant who has been captured requested army to spare his life. "During questioning he has revealed that he is affiliated with Lashkar-e-Taiba. He has identified himself as 19 year old Ali Babar Batra son of late Muhammad Latif of Dapalpora in district Okara of Punjab Pakistan."
The captured militant revealed that he had 3 weeks course at Khyber Camp at Ghadi Habibullah Muzafarabad.
He also revealed that he was instructed to drop the supply in Pattan area. "After analyzing the facts, it seems the intention of these infiltrators was to strike somewhere in Kashmir. This infiltration has taken place in the Salamabad area. This are has a history of infiltration and it is the same area where infiltration has taken place in 2016 before the attack on Uri army garrison," he said. kns