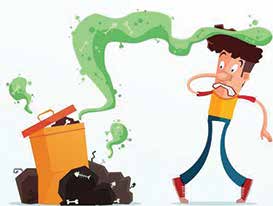 Srinagar, Sept 28: Residents of Syed Jaffar Colony and Astaan Pora Rawalpora here on Tuesday complained that they are facing tremendous inconvenience due an "unpleasant and nauseous odour" from an "open drainage" in the area.
The pungent smell, they said, leaves them feel queasy and most people have headache as soon as they move through the open drainage.
"Everyone passing through the area has to cover their noses. I feel nauseating and get a bad headache because of the smell," Fayaz Ahmad, a resident of the area, said.
Flanked by others, he said, "People especially children and elderly are having health issues to due to it."
Shahid Ahmad, another resident, said: "The smell is pungent and it leaves us with headaches every single day. It has become nearly impossible even to stay in this place."
The locals have requested concerned authorities to look into the issue and redress the same for safety of people. (GNS)