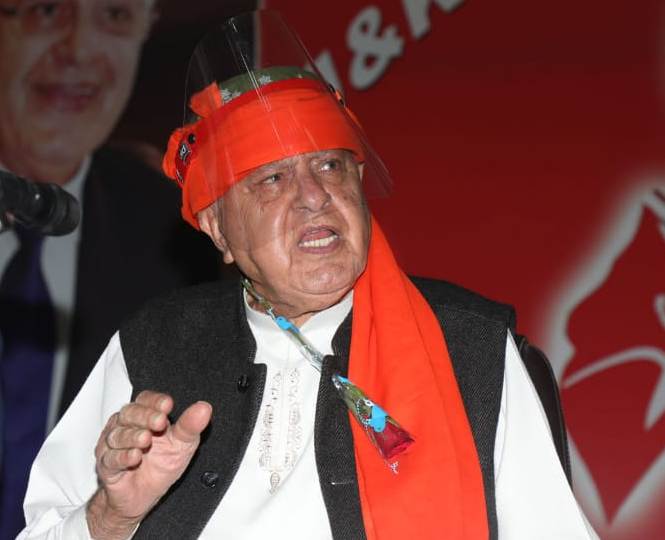 Srinagar, Sep 27: The Jammu and Kashmir National Conference Party President and Member of Parliament Dr. Farooq Abdullah on Monday said that NC will fight for restoring J&K's identity with a clear cut goal of safeguarding the aspirations of its pluralistic identities.
He said this in a statement while addressing a gathering of party delegates from the eight constituencies of district Srinagar at the party headquarters Nawa-e-Subha, Srinagar. On the occasion, he congratulated Peer Afaq Ahmed for getting re-elected as the district president Srinagar for the fourth consecutive time. It is relevant to mention here that Pir Afaq Ahmed name for the coveted post of district president was proposed by Provincial president Nasir Aslam Wani and seconded by senior leader Mubarak Gul, Irfan Shah, Mohammad Syed Akhoon, Ahsan Pardesi, Salman Ali Sagar, Tamvir Sadiq and others.
The election process was executed by the party's south zone president Dr. Bashir Ahmed Veeri and other observers. Afaq was elected uncontested and delegates from the eight constituencies of district Srinagar supported his nomination.
Later Party President Dr Farooq Abdullah was joined by party's senior leaders including General Secretary Ali Muhammad Sagar, additional general secretary Dr. Sheikh Mustufa Kamal, Provincial President Nasir Aslam Wani, Mubarak Gul, Ali Muhammad Dar, Muhammad Syed Akhoon and Spokesperson Imran Nabi Dar, Mushtaq Ahmed Guroo, Muddasir Shahmiri, Ifra Jan, Younis Mubarak Gul, Sardar JS Azad, Dr. Syed, Qaisar Jalali in commiserating Peer Afaq.
While addressing party delegates, Dr Farooq said that the party was fighting for safeguarding the interests of people of JK, Ladakh at various levels and that the need of the hour was to strengthen the party ranks to meet the challenges during the ongoing struggle.
Terming the unity, passion, awareness, and clarity as main ingredients for success, Dr Farooq said the plans of anti-Jammu & Kashmir forces has proved futile in wake of the huge support that the people of JK have posed in NC during the DDC elections.
"Our party delegates, workers, YNC, Women's wing, minority, Pahari, and Gujjar Wings have to take on Anti-Jammu & Kashmir forces and take on a door to door campaign to dispel all ambiguities created by such forces who are hell-bent to divide us. These anti-Kashmir forces are working on a single mission to annihilate the National Conference from the political scene of Kashmir, but they are living in dreamscape.  Having been shown their place in the DDC elections by the people of JK democratically, these forces are now resorting to a smear campaign. Not even a day passes when they don't speak of everything identified with JK's identity, and historical individuality with venom in their voice. With each day we have these forces nosedive to newest lows. These forces are facing legitimacy crises," he added.
He said that NC is the only Party in JK, Ladakh with an impregnable cadre and the ongoing Block President and District President elections being carried out by the party across the length and breadth of Jammu and Kashmir also laid bare how democratic it is as well. "The need of the hour is to strengthen the fortress of NC. A strong NC fortress can only ensure that the vital democratic, cultural, economic and political interests are protected at all levels," he added.
Party General Secretary Ali Muhammad Sagar, Additional GS Sheikh Mustufa Kamal, Provincial President Nasir Aslam Wani, Senior leaders Mubarak Gul, Tanvir Sadiq, Ahsan Pardesi, Irfan Ahmed Shah, JS Azad, Er. Sabiya Qadri, Salman Ali Sagar also spoke on the occasion. Among others, Women's wing, Minority wing functionaries of district Srinagar were also present on the occasion.
Meanwhile Dr. Sajad Shafi Uri has been elected as District President Baramulla through transparent elections carried out by party's State Secretary Sakina Itoo, In-Charge North Zone election. Party President Dr. Farooq Abdullah, Vice President Omar Abdullah, General Secretary Ali Muhammad Sagar, and Provincial president Nasir Aslam Wani, North Zone President Javed Dar, Showkat Mir have passed on good wishes to Dr. Sajad with a view that his election as District president will benefit the party at the grass root level.