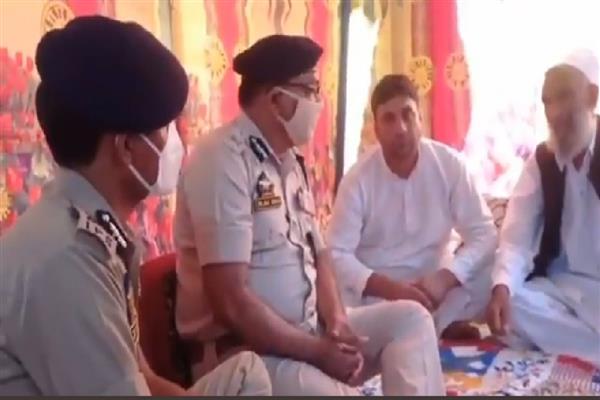 Kupwara, Sept 18: Director General of Police J&K Dilbag Singh Saturday visited the family of slain Police sub-inspector Irshad Ahamd Mir who killed a few days ago in a militant attack at Khanyar area of Srinagar
In a statement, a police spokesperson said that the DGP was accompanied by IGP Kashmir Zone Shri Vijay Kumar, DIG North Kashmir Range ,
SSP Kupwara Dr GV Sandeep IPS, and other jurisdictional officers of Kupwara district.
The DGP expressed solidarity with the bereaved family and prayed for the eternal peace of the departed soul who gave supreme sacrifice of his life while on duty.
While interacting with the family of the martyr, he said that the whole Police Pariwar stands with the bereaved family and share their grief and sorrow. He assured that every support would be provided to the family.
The statement reads that sub-inspector Irshad Ahmad Mir attained martyrdom when militants fired indiscriminately upon him in Khanyar September 13 while on duty.
"A large number of people from the village had come to condole the death of Irshad Ahmad and expressed their sympathies with the bereaved family."
Some local elderlies and youth also met the DGP and praised the deceased SI for his people friendly conduct and helping nature to everyone.
They also requested the DGP to provide help to the family as the martyred police officer was only earning hand in the family.
His father told the DGP that they were proud of the sacrifice of their son who was brave and courageous, honest and helping to everyone including their families.
They desired that the guilty would be punished by law and the Almighty for the sin they have committed.