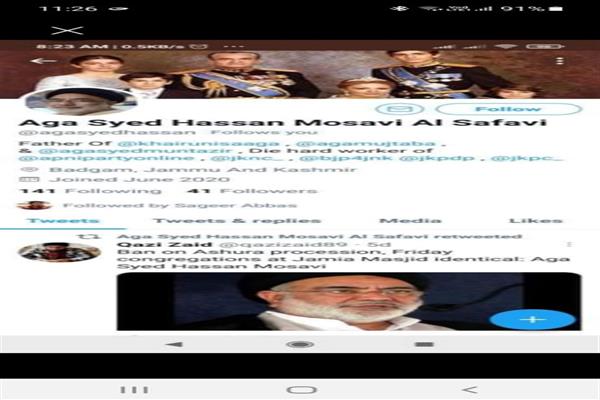 Srinagar August 07: Jammu and Kashmir Anjuman Sharie Shian spokesperson on Saturday said that a fake twitter handle on the name of Aga Syed Hassan has been created to spread misinformation.
Statement reads, "we strongly condemned the use of fake Twitter handle of president Jammu Kashmir Anjuman Sharie Shian and senior APHC leader to remain relevant in political spectrum of Kashmir".
He said that application has been moved twice before Cyber cell but still no action has been taken yet.
Using chief clergy name for survival itself reflects mainstream politician dishonesty and hypocrisy which they have been doing since 1947, it said.
It has hurt the sentiments of the people and we urge administration to take note of this fake handle and nab the culprit. Demeaning chief clergy is highly condemnable no civilized society will allow the same, statement reads.
We urge the police administration to initiate a strong action, he added. kns