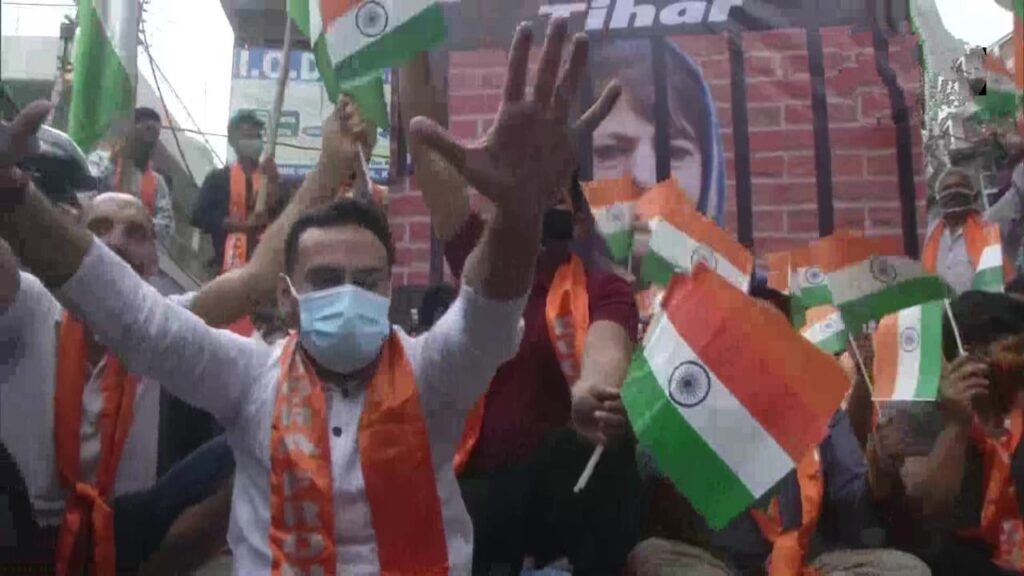 Jammu, June 24: Lesser-known Jammu based outfit 'Dogra Front' Thursday staged a protest against Peoples Democratic Party President Mehbooba Mufti against her statement to talk with Pakistan for the settlement of Kashmir issue.
Eyewitnesses said that protesters who hit to Jammu roads raised slogans against Mehbooba Mufti. The protesters were carrying placards and photographs of Mehbooba Mufti seeking she should be lodged at Tihar Jail for 'anti-India' remarks.
Pertinently, Mehbooba Mufti recently said when talks with Taliban materialized and were held in Doha, why can't there be a dialogue with India and Pakistan on Kashmir.
The protesters said Mehbooba Mufti's statement was anti-India in nature and she should be booked and jailed.
The protest was staged on a day when Prime Minister Narendra Modi is going to preside an all-party meeting on Jammu and Kashmir in which over a dozen leaders from 8 political parties are participating.
Dogra Front which claims to be an organization for the protection and safeguarding the rights of Dogra community of Jammu staged first protest in Jammu after the annulment of Special Status of Jammu and Kashmir in August 2019. knt