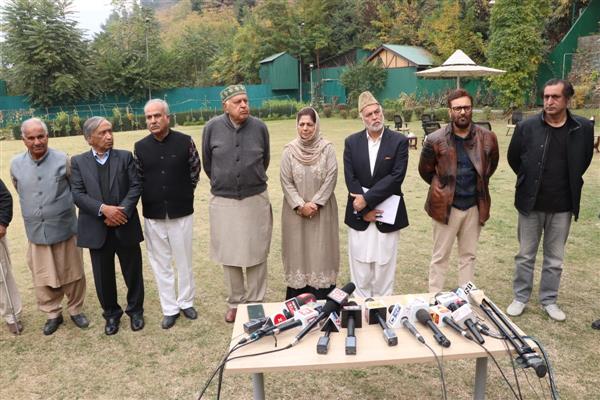 Srinagar, June, 18: In a first major path breaking initiative the central government plans to reach out to major mainstream regional and national level political parties for participation in a round table conference likely to be held from June 24 to June 25 in Delhi.
Top sources while disclosing said that formal invitation letters will be sent to all the top leaders of J&K mainstream parties both regional level and national level for participation in the round table conference.
The move comes shortly after recent rumours over further bifurcation of Jammu & Kashmir which were attributed to handiwork of some " anti-national elements" by none else than the J&K Lt Governor Manoj Sinha. Rumours of further bifurcation of Jammu & Kashmir were witnessed immediately after the replacement of B V R Subrahmanyam as Chief Secretary by Ashok Kumar Mehta an IAS officer of the erstwhile J&K cadre who has occupied several top key positions during his 30 year long chequered bureaucratic career in erstwhile Jammu & Kashmir state.
Amid rumours over further bifurcation of Jammu & Kashmir state Farooq Abdullah led Peoples' Alliance For Gupkar Declaration (PAGD) had after several months of silence held a meeting in Srinagar after which the PAGD leaders reiterated their demand for restoration of statehood and special status revoked by the Central Government on August 5,2019.
The major political move of holding a round table conference comes amid fears of further division of Jammu & Kashmir and speculation about participation of three National Conference Parliament Members in the next meeting of the Delimitation Commission. kns
KDC adds:
Reliable sources said that the meeting will discuss the way forward for Jammu and Kashmir as it is being understood by Delhi that time has come to resume the political process and to take a review of the decisions of Aug 05 2019.
The center and the Political leadership in Jammu and Kashmir are at loggerheads over the downgrading of State of Jammu and Kashmir to Union Territory. While mainstream political parties in Kashmir are willing to contest elections after restoration of statehood, some newly formed political groups and center are of the opinion that statehood should be restored through a resolution in legislative assembly post elections.
They said it is going to be the first-ever all-party meeting between the Prime Minister Narendra Modi and leadership of Jammu and Kashmir since the abrogation of special status of Jammu and Kashmir on August 5, 2019.
After holding a series of discussions through back channels, Delhi has now thought to make the things public, and likely convene the meeting on June 24 or 25th of this month, which will be presided by Prime Minister Modi.