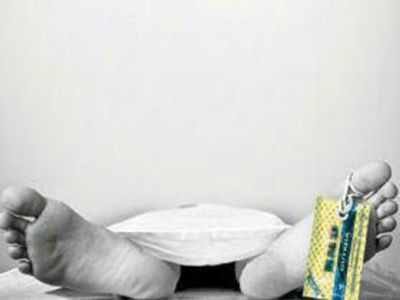 Srinagar, June 6: Kashmir Valley reported two more suicide cases on Sunday morning.
The deceased including a lady and a minor boy. Sources said that a lady (name withheld) wife of Bashir Ahmed Dar of Sather Sangam area of South Kashmir's Bijbehara allegedly hung herself at her residential house.
The lady was brought to Sub District Hospital Bijbehara by her legal heirs, where doctors declared her dead. Police initiated proceedings under section 174 CrPCc & after autopsy dead body was handed over to legal heirs for last rites.
In another incident a 12-year-old non-local from Uttar Pradesh, (name withheld), son of Naseem Ahmed presently living in Awantipora allegedly hung himself, resulting into his death.
Official data reveals that Kashmir reports suicide cases on daily basis. From past couple of years, suicide cases are on rise. A Health official said that there are scores of such cases which are not being reported. "People consuming poisonous substances to end their lives has become a routine in Valley while 90% of such incidents go unreported and in most of these incidents, victim survives," he said.
Last week, a youth from Palapora Eidgah area of Srinagar city ended his life after he jumped into the river Jehlum. Police foiled the suicide bid of a woman from Budshah Nagar Natipora at Budshah Bridge when she tried to jump into the river. Earlier, a man from Sonwar made an unsuccessful bid to end his life after he jumped into the river Jehlum at Abdullah Bridge here in Kashmir capital Srinagar.
Earlier, the eruption of armed conflict was believed to be the major reason for the rise in suicide cases but experts say that since of outbreak of Covid-19 pandemic, suicide cases are witnessing upward trend. "Mental health, financial distress, personal problems are some of the factors contributing to this menace," they say.
The attempts made by scores of people to end their lives by jumping into the river has forced government to instal safety fencing. Government in recent past had identified such locations and had installed safety fencing, however, the number of suicides by jumping from other structures remained unchanged after installation of the safety fencing.
"Various people ended their lives while jumping from bridges, but after the installation of safety fencing, such incidents to some extent have stopped. Government should install safety fencing at every bridge and other locations which are otherwise called suicide points," said a senior respectable citizen.
As Experts blame, turmoil, pandemic, financial crunch, family problems as the major causes of suicides, religious scholars have a different opinion. They link the rise of suicide cases directly with religion.
"We have shunned the path of God, ignore the tenants of Islam. A person who recites Holy Quarn, offer prayers and follow his religion in letter and spirit will never ever commit suicide. One should study the life style of those who commit suicide, they will never find the victim religious in nature," said a renowned cleric.
Every religion forbids suicide. There is no place for suicide in any religion like Islam, Christianity, Hindusim, Buddhism, Jainism, Judaism.
"In Buddhism suicide is clearly considered a negative form of action. In Christianity, suicide has been considered a grave and sometimes mortal sin. In Hinduism, murdering one's own body is considered equally sinful as murdering another. Judaism views suicide as one of the most serious of sins while Islam also views suicide strictly as sinful and detrimental to one's spiritual journey."
The cleric claimed that those who are religious in nature are always satisfied with life and they thank Almighty for everything they get. "Unfortunately, many people today are not aware of all these preventative religious instructions in order to avoid suicide; others might know but they do not practise their own religion." knt