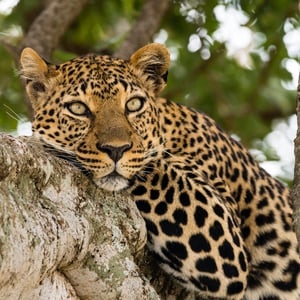 Budgam, Jun 5: Day after devoured body parts of a native minor girl were found from a dense plant nursery in Ompura Humhama, Wildlife authorities have on Saturday morning trapped a leopard from Khudpora Khansahib locality in this Central Kashmir district.
Reports said that the department concerned on alert swung into action soon after being intimated about spotting of a leopard in Khudpora Khansahib area. The men and machinery were put into action and the beast trapped in an hour or so.
As leant, the leopard was spotted in the locality around 10 AM this morning creating a panic among the local residents. However the wildlife authorities were successful in trapping the beast immediately, believed to have split from the leap (group of leopards).
It is pertinent to mention here that a 4-year-old girl identified as Adda Yasir Mir daughter of Yasir Ahmad Mir had gone missing from Housing Colony Ompora Humhama Budgam from 4 p.m. on June 3 after which her family lodged a report with nearby police station. While most people suspected that the girl was taken away by the leopard and their worst fears came true when team of police, SDRF and locals found few of her body parts in the area in a dense nursery.
Among a chain of measures, Deputy Commissioner Budgam during a meeting with Superintendent of Police, Divisional Forest Office and Wild life Warden in attendance directed DFO, PP Division Budgam, to ensure immediate removal of fallen material and other cultural operations at Ompora Forests and other risk areas forthwith in order to avoid to any further loss of life and property in the area.
However later in the day, the authorities suspended Suhail Qazi, Range Officer Wildlife Department Ompora Budgam with immediate effect and also appointed Additional Deputy Commissioner Budgam to enquire into the matter. gns