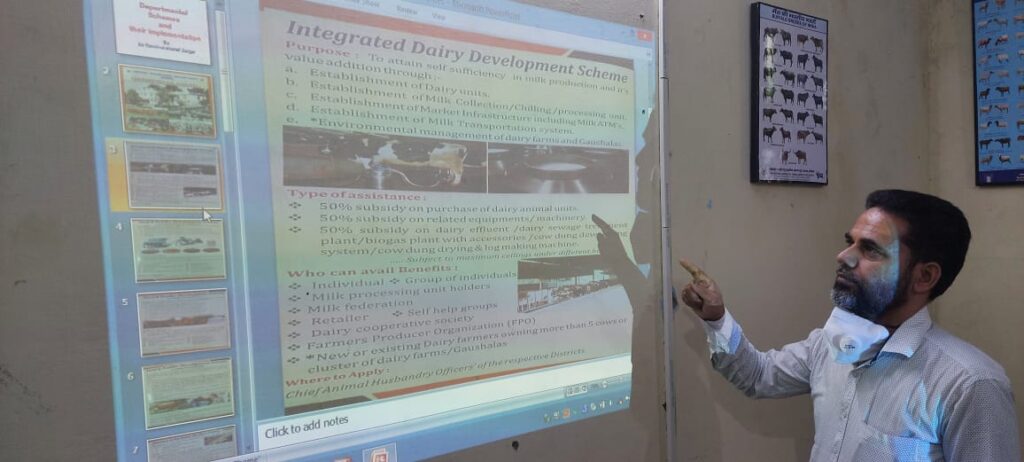 JAMMU, MAY 22: The Stock Assistant Training Institute, Jammu, has started a Capacity Building Programme for the Field Officers, Vets & Paravets, and young entrepreneurs interested in Dairy and Poultry Farming as a business.
For the purpose, the Institute has devised an annual calendar of Five Short Term Training Programmes covering topics like Departmental Schemes and their Implementation, Artificial Insemination, Latest Trends in Animal Health Care, Dairy Farming and Poultry Farming.
These programmes are being conducted via online mode till the Covid crises are over.
Since the Departmental employees are already on board, the general public is invited to adopt the Dairy and Poultry Farming as a Source of Livelihood/ Business and utilize the services of the Institute for getting trained for the same. The institute can be reached out at principalsati@gmail.com
The Short Term Training Programmes, being organised under the able guidance of, Principal Secretary to Government Animal/Sheep Husbandry and Fisheries Department, Naveen Kumar Choudhry, and Director Animal Husbandry Jammu, Vivek Sharma with the dual purpose of doubling the farmers' income and enhance the production.
The increase in the production of livestock products like milk, meat and egg will not only improve the health status of the general public but will also enhance their socio-economic status. The implementation of the Departmental schemes has been taken up on war footing by publicising the schemes and imparting awareness at all levels. Potentiating the same process.