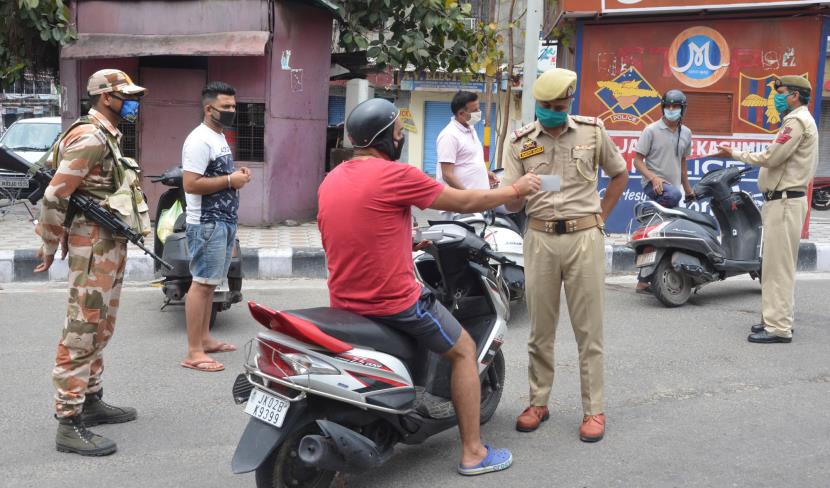 Srinagar, May 5: Normal life remained affected in Jammu and Kashmir on Wednesday as the lockdown in the wake of an alarming surge in coronavirus cases continued, officials said. 
Restrictions on the movement and assembly of people continued to remain imposed across the J&K. Police and paramilitary forces put barricades on roads at many places in Srinagar as well as in other district headquarters of the Valley and the Jammu region to prevent the movement of people.
However, essential and emergency services are allowed, the officials added.
Most of the shops, fuel stations and other business establishments remained shut while public transport was off the roads.
"Since the outbreak of 2nd wave of Coronavirus, J&K Police has enhanced its efforts to sensitise the masses about controlling the highly contagious Coronavirus. Slew of measures including restrictions u/s 144 have been put into place to contain the spread of Covid-19,"a police spokesman said.
In view of the record surge in daily cases across the Kashmir Valley, Police also enhanced the efforts to implement the Covid-19 guidelines, SOPs and restrictions strictly throughout the valley, he said.
"During last 24hrs, Police has arrested 129 persons, lodged 74 FIRs and also realized fine to the tune of Rs 91,650/- from 586 people for violating the guidelines/rules throughout Kashmir valley," he said, adding, "Besides, 23 vehicles were also seized in Budgam for violating guidelines/restrictions and indulging in illegal excavation and transportation of clay. 11 shops were also seized by police along with Executive Magistrate in Beerwah and Khansahib areas of Budgam for violating Covid-19 norms.
On Tuesday, the authorities extended 'corona curfew' till May 10 in five districts of J&K including Srinagar and Jammu.
"In view of the trend in COVID positive cases, the positivity rate and the cases per million, the Corona Curfew in the 4 districts of Srinagar, Baramulla, Budgam and Jammu which is there till 7 am on Thursday, 6 May 2021, will stand extended till 6 am on Monday, 10 May 2021," government had said.
"In addition, Samba district will also be under Corona Curfew from 7 pm on Wednesday 5 May 2021 till 7 am on Monday, 10 May 2021."
The government had on Saturday announced the extension of the lockdown in the four districts — Jammu and three others in the valley—till Thursday morning. Later most of remaining districts in Valley extended the lockdown till May 6.