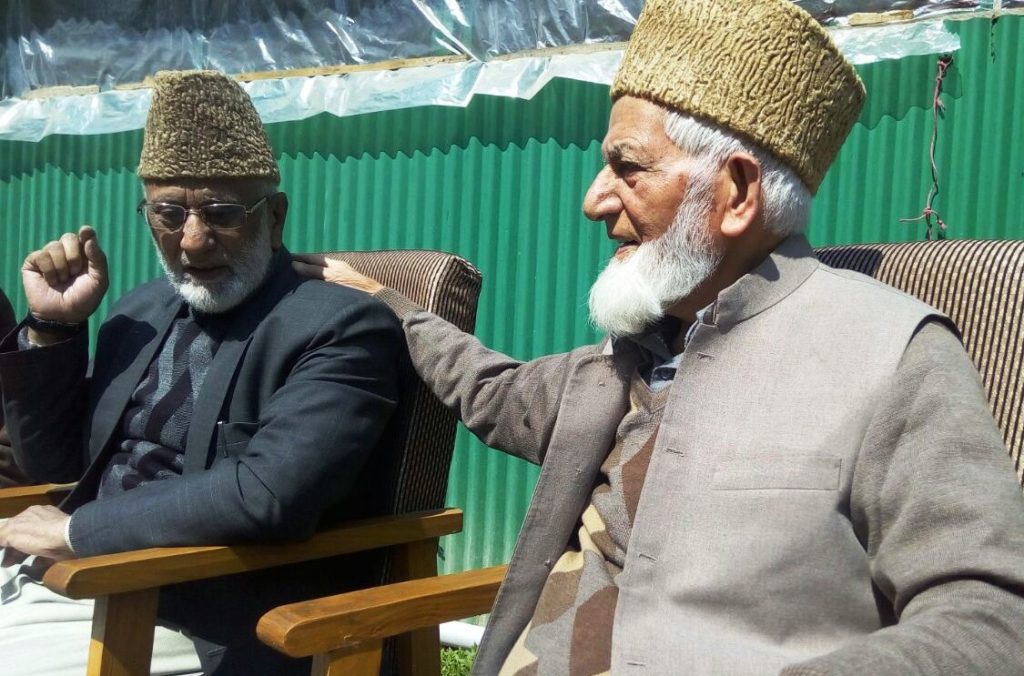 Srinagar, May 05: The mainstream political leaders in Jammu and Kashmir on Wednesday expressed grief over the demise of Tehreek-e-Hurriyat Chairman, Muhammad Ashraf Sehrai, who breathed his last today in Jammu hospital.
Former chief minister of erstwhile J&K State and PDP president Mehbooba Mufti in her tweet said that in today's India, one pays a price with his life for dissent.
"Deeply saddened to know about Ashraf Sehrai sahab's sudden demise. Like him countless political prisoners & other detainees from J&K continue to be jailed purely for their ideologies & thought process. In today's India one pays a price with his life for dissent," Mehbooba tweeted.
She, however, said that the government amid the prevalent situation should release the detainees on parole. "The least GOI can do in such dangerous circumstances is to immediately release these detainees on parole so that they return home to their families," she tweeted.
Peoples Conference (PC) Chairman Sajad Gani Lone has questioned the government's rationale behind keeping an octogenarian, Mohammad Ashraf Sehrai in jail in spite of the fact that he was battling a plethora of ailments due to his old age.
Terming Sehrai's demise in incarceration as unfortunate and totally uncalled for, Lone said that there is a dire need to introspect the way system has been dealing with such cases. He said Late Sehrai was a political leader and not a terrorist and that he deserved to die in his home, amongst his loved ones.
Taking to his Twitter handle, Lone remarked: "Why did he have to die in incarceration and not at his home amongst his kin and loved ones. Have we become so weak that an old infirm dying person is a threat to the state. I am not being critical. But please introspect. Seharai Sahib was a political leader, not a terrorist."
Terming the separatist leader a transparently honest politician who spent decades of his life in jail, Lone said it was irony of Kashmir conflict that the politicians of such quality are consumed by the embargo.  "This is the irony of Kashmiri politics. Top-quality politicians consumed by the conflict. The ideological versatility of Kashmir politics is a curse. A transparently honest politician spent decades in jail," Lone said.
Apni Party President Syed Mohammad Altaf Bukhari has expressed deep shock and grief over the demise of Mohammad Ashraf Sehrai, Chairman Tehreek-e-Hurriyat, who passed away at a Jammu hospital today.
In a condolence message issued here, Bukhari extended solidarity with the bereaved family and prayed for eternal peace to the departed soul. "I pray to almighty Allah to grant Jannat to Sehrai, and give courage to his family to bear this huge loss. Apni Party stands in solidarity with Sehrai's family at this difficult period of time," he added.
While expressing grief, CPI (M) leader Mohammad Yousuf Tarigami urged the administration to shift his body to Kashmir at the earliest so that his family could perform his last rites.
In a condolence message, he extended solidarity with the bereaved family and urged the administration to facilitate them in performing his last rites without any difficulties. Sehrai, according to media reports, was admitted at the Government Medical College (GMC) Jammu after his health deteriorated earlier this week at Kot Balwal Jail where he was lodged since July 2020.
"In view of the prevailing Covid crisis, it would be appropriate if the cases of prisoners are reviewed and those who are not involved in heinous crimes are released. There is Supreme Court direction that the Under-trial Review Committee should specifically look into aspects pertaining to effective implementation of Section 436 CrPC and Section 436-A CrPC so that under-trial prisoners are released at the earliest."
"There is also an immediate need to shift Kashmiri prisoners lodged in various jails outside back to the Valley in view of the massive spike in Covid deaths and cases across the country. Family members of these prisoners are seriously concerned about the health and lives of their loved ones."
The authorities must also ensure that the prisoners lodged in various jails are allowed to speak to their family through phone and video calls as physical meetings are difficult amid Covid-19 pandemic, he said.
Jammu and Kashmir Pradesh Congress Committee (JKPCC) also expressed profound grief at the passing away of Muhammad Ashraf Khan (Sehrai) in Jammu.
In a condolence message, JKPCC said the septuagenarian Ashraf Sehrai was a well-known religious and scholarly figure of Kashmir and conveyed deepest condolences to the bereaved family.
Deeply saddened to learn about the passing away of Sehrai, JKPCC added and expressed solidarity with his family and prayed for eternal peace to departed soul.