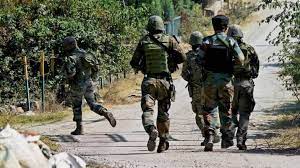 Srinagar, May 04: A top Lashker-e-Toiba 'commander' was among two militants killed in a gunfight at Nathipora area of north Kashmir's Sopore on Tuesday, officials said.
The encounter had ensued after a team of police, CRPF and army's 22 Rashtriya Rifles was fired upon during a cordon-and-search operation launched in the area amid specific information about the presence of the militants, a police spokesman said.
"The joint cordon and search operation was launched on the information provided by Kupwara police," the spokesman said.
He said during the search operation as the presence of militants was ascertained they were given an opportunity to surrender. However, he said, they fired indiscriminately upon the joint search party, which was retaliated, leading to an encounter.
"In the ensuing encounter, two militants of LeT outfit were killed and their bodies were retrieved from the site of encounter."
They have been identified as a local militant, Wasim Ahmed Lone of Hatlangoo Sopore and a foreign militant Hamas alias Asrar alias Saria who was active since March 2018 in North Kashmir.
Inspector General of Police Kashmir Zone Vijay Kumar said the "top commander Hamas was active in general area of Zaingeeer, Warpora, Hatlangoo , Brath , Darpora, Bomai, Zaloora , Nathipora."
"He was active since 2018, being in the list of top 60 militants released by JKP recently, and was very instrumental in misleading the youth by motivating them to join (militant) organisations," he said.
The top police officer of the Valley said that Hamas was also involved in multiple grenade lobbying incidents on security establishments and was also "involved in recent killing of two councillors namely Peer Riyaaz and Peer Shamusdin and a SPO namely Shafaat Ahmed on 29 March." "He was involved in FIR No 349/20 u/s 307 ipc 3/4 explosive Substances Act 16 UAPA ( Grenade Lobbying at PP Bus stand on 12.12.2020); FIR No 239/20 on 31.08.2020; 64/21 u/s 307,IPC 3 explosive substances Act 16 UAPA ( Grenade Lobbying at Bus stand on 13.03.2021); 4.227/20 u/s 4/7 explosive Substance Act , 16 UAP act on 21.08.2020; 336/20 u/s 307 ipc 3/4 explosive 16 UAP Act on 01.12.2020; FIR No 78/21 us 302,307ipc 7/27 Indian Arms Act 16, 18 UAPA ( attack on Muncipal on 29.03.2020 office leaving three dead."
Regarding Waseem Nazir Lone, the IGP said that he was a "chronic stone pelter and was also working as OGW till the date he went missing and joined militant organisation LeT."
Police said arms and ammunition including one AK-47 rifle, one Insas rifle and other "incriminating materials" were recovered from the site of encounter.