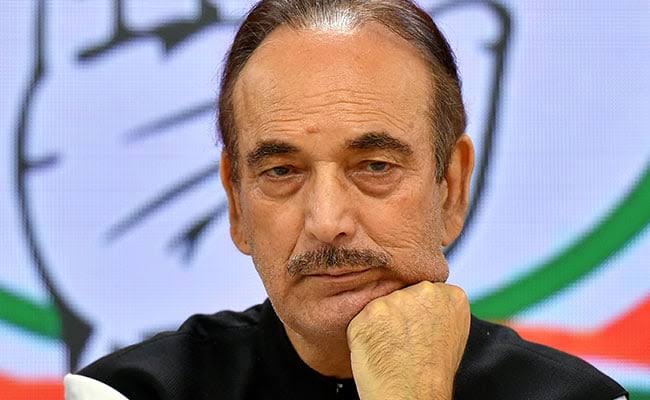 Srinagar, Feb 27: Stating that the people of erstwhile Jammu and Kashmir State have lost their identity when it was bifurcated into two Union Territories, senior Congress leader and former Leader of Opposition in Rajya Sabha, Ghulam Nabi Azad Saturday the enemies on the border in Jammu and Kashmir are very much and active and there was a need to keep the people united to defeat the enemy in unison.
Addressing a gathering at 'Shanti Sammelan' in Jammu, Azad, who is also former chief minister of J&K, said that he has certainly retired from Rajya Sabha, but not from politics, saying that the fight for the rights of the people will continue.
He said that the leaders from across the globe and people there know Kashmir by its name, but unfortunately, it (Kashmir) lost its identity recently when the State was bifurcated.
"There is not even a single citizen across Jammu, Kashmir and Kargil, who doesn't want the restoration of Statehood to Jammu and Kashmir. All the political parties also want the statehood to be restored. If any leader has the guts to speak contrary to it, let them come up with a statement in this regard," he said.
He added that the Congress party will continue its struggle for the restoration of Statehood in and outside parliament.
Azad further stated that the fight in politics never stops, adding that the political leaders or parties continue to fight against unemployment, diseases and other things.
"But, in J&K, the fight against the enemies is an addition as they are very much active on the borders. The situation along the borders continues to remain the same as it was in 1947. We have a responsibility to remain united and fight against the enemy in unison. We can't fight the enemy without staying intact," he said.
"Congress couldn't have succeeded in getting freedom decades ago if it would not have remained in unison," he said.
He added that the border dwellers should also be united as they fight the enemy on the forefront. "We appreciate the forces on the borders who fight the enemies and want to tell them that we are with them in the fight," he said.
Azad further said that the degree holders in Jammu and Kashmir are awaiting jobs while the unemployment rate is swelling with each passing day. "There is nobody who talks about unemployment and I didn't see anyone getting a job in the recent past," he said.
He further said until and unless there won't be elected representatives in J&K, the situation of unemployment, education and other worsening sectors will continue to remain the same.
Besides, he said that two more things needs to be done for the people of J&K which include the land rights and jobs, saying that no outsider like other States should be allowed to buy land here while the government jobs should be kept for the people of J&K only. kno