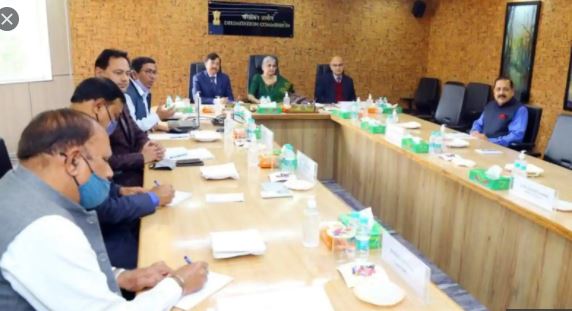 Srinagar, Feb 25: The Government of India is set to give extension to the tenure of delimitation commission constituted by it last year for fixing boundaries of Assembly and parliamentary segments of Jammu & Kashmir, sources disclosed.
Highly placed sources said that the panel set-up on March 6, last year is expected to get extension of six months or one year to carry out its work.
"The Commission's work was severely hampered last year due to outbreak of coronavirus. It couldn't even convene its meetings. Its tenure is coming to end on March 5, 2020. So it is likely to get extension of six months to one year," an official said.
He said the panel's work was also affected by holding of the district development council polls in J&K Union Territory in November- December last year.
"The State Election Commissioner KK Sharma couldn't take part in proceedings of the panel due to his poll-related engagements," he said, adding that before appointment of Sharma, Hirdesh Kumar was part of the Commission by virtue of holding powers of SEC.
According to a notification issued by Centre last year, the appointment of Commission's head, Justice (retd) Ranjana will be for a period of one year or till further orders, whichever is earlier.
The panel has been empowered to fix boundaries for 90 Assembly seats and five parliamentary segments of Jammu & Kashmir panel. It has also been tasked to reserve seats for schedule castes and schedule tribes.
Going by the parameters governing reservation for SC's and STs, 18 seats are likely to be reserved for them.
It is worthwhile to mention that Assembly of the erstwhile state of J&K had 87 seats, of which four seats were Ladakh. Ladakh is no more part of Jammu & Kashmir from October 31,2019 when it started functioning as a separate Union Territory. kno