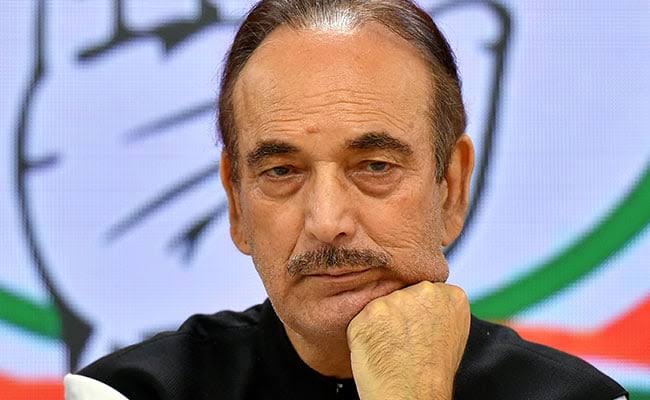 Srinagar, Feb 03: Senior Congress member leader of the opposition in Rajya Sabha, Ghulam Nabi Azad Wednesday said that the government must bring a bill to restore the statehood of Jammu and Kashmir and hold elections in the UT ,saying that post bifurcation no development has taken place and people aren't happy. 
Addressing the house, Ghulam Nabi Azad, said that "I have heard thousands of times Atal Bihari Vajpayee addressing the lower and upper house as, MP, Minister, and Prime minister but never heard him or any BJP leader including then Home and Defence minister mentioning in their manifesto about splitting a big state into two Union Territories till August 5, 2019."
He said that only Leh district in the Ladakh region demanded UT status. "It's understandable that specifically, Leh could have been upgraded as UT but this is out of mind to understand that one of the biggest states in India since Akbar's rule has been bifurcated."
He said that apart from Delhi if the world knows any state of India it's Kashmir only for the historical background and beauty it has. "Any foreign minister or the head of the state visiting India knows Kashmir and there won't be any who don't but the full-fledged state has been bifurcated into a Union Territory", he said.
"I still fail to understand why the J&K state was bifurcated into two union territories even now there is no improvement in law and order as it used to be during the elected government including the militancy that was very lowest but the same stands heights now.", the leader of opposition said in his address.
"Developmental works were best during the elected local government while there is no developmental work at all and the parameters of health, education, and others is worse", he said. "Post bifurcation the Educational institutions were shut and then came the pandemic but when the government started online classes there was no high-speed mobile internet available."
"How is it possible for a state to develop when the educational institutions remain shut for 2 years", he questioned the government adding that 30 to 40 parameters were better than the national average what else was required since there was no rift or communal fight between Kashmir and Jammu divisions.
The senior Congress leader said that the tourism industry has come to an end in Kashmir valley. Some of the tourists who visited Gulmarg drive directly from the Airport to a five-star hotel there but that doesn't benefit the local business of the valley including the taxi driver, horse cart runners, shopkeepers, and handicrafts. "Thousands of hotels employee thousands of people but the staff is at home since there is no work as the tourist haven't visited them for past two years now", he said
He also said that the condition of roads is worse and a stretch on the national highway from Batote to Banihal is waiting for completion for the last 6 years now that has led to huge losses. "Fruit business suffered a huge loss last year after the fruit-laden trucks remained stranded for almost a month given the closure of national highway", he said.
While praising the PM Modi led central government for conducting successful maiden DDC elections in J&K, the senior Congress leader said that I congratulated them for conducting this as it was an old demand to empower the Panchayat Raj system initially the process was started by congress itself.
"DDC is a good step. We prise Central government for maiden elections", he said.
Azad said that Northeast and Jammu and Kashmir including Ladakh and Punjab are important for India and there must be no step that evokes public resentment since all are border states.
"The people of Ladakh are not happy with the UT status. With the abrogation of Article 370 and 35A, anyone can buy their land. Job opportunities were earlier exclusively available for J&K residents. Jammu people aren't even happy as the maximum land will be borrowed there alone with Punjab near it", he said.
"Earlier some advertised posts were repealed immediately after resentment in Jammu as it invited applications Pan-India. Some national-level interviewers published were also withdrawn", he said. "Transporters, Shopkeepers, and Unemployed in Jammu are unhappy. No one in Ladakh, Kashmir, and Jammu are happy with the abrogation of Article 370 and 35A."
Jammu and Kashmir was not the only place across India enjoying special provisions, he said adding that no one can buy land in Himachal, Uttarakhand, Northeast, and the land of SC and ST was protected and it wasn't in J&K alone rather across India.
If Jammu and Kashmir have to progress and if the borders have to be protected fighting the enemies government needs to win the confidence of people and tackle them with love and care, he said during the address.
"I end my speech asking the prime minister, to restore the statehood of Jammu and Kashmir and elections be conducted early", he added—(KNO)