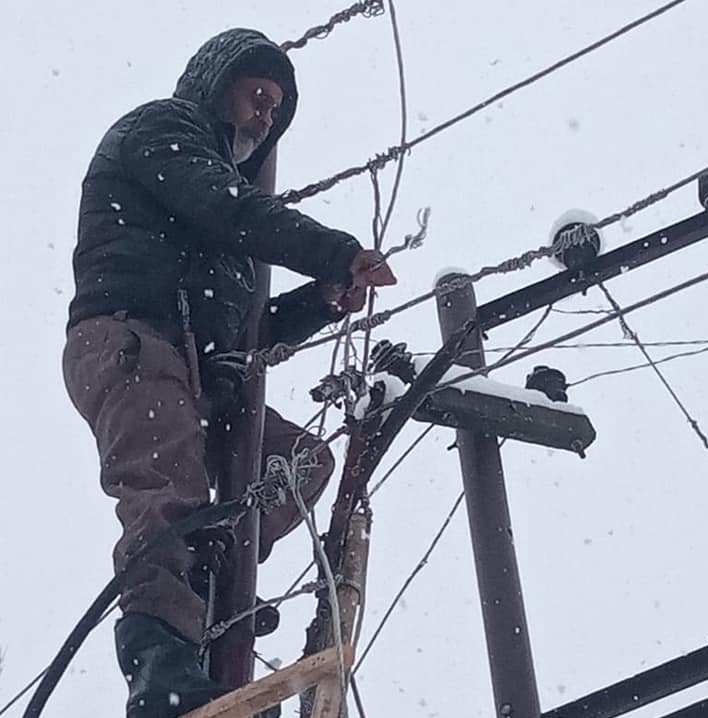 Srinagar, Jan 05: Following heavy snowfall across Kashmir, the district administration Srinagar Tuesday said that it pressed its men and machinery to clear the roads and also made all the 38 feeders operational after some among them had developed technical snag.
Officials said that the Mechanical Engineering Department machinery available with the district administration was pressed into action at 5am sharp today.
"A fleet of 25 machines with a target of nearly 1300KM road was started. Apart from this, PWD and PMGSY machinery was also deputed for respective areas of operation," the officials said.
They said by 7 PM a total linear length of 3915KM road was cleared involving three to four rounds of road clearance. "Post 11Hrs there was heavy snowfall leading to traffic jams and disturbing the clearance. A public advisory was issued for avoiding non-essential movement and movement of private cars for a few hours. The public response was prompt and amazing. After working an hour and half, the traffic on roads reduced by 80% thereby providing a clear corridor for machines to move. It snowed continuously hence repeated rounds were necessitated," they said.
As per the officials, Deputy Commissioner (DC) Srinagar along with ADC, Joint Director Planning and senior officers of PWD Power MED PHE visited Khanmoh, Lasjan, Dhara, Theed, Shalteng,  Qamarwari, Zainakote, Anchar, Karan Nagar, Sekidafar, Ali Jan Road, Aiwa bridge, Soura, Owanta Bhawan, Buspora, Anchar, Zadibal, Mallabagh, Habbak, 90Ft, Zakura, Hazratbal, Foreshore, Nishat, Hyderpora, Rawalpora, to review snow clearance and essential services.
"Out of 6500 transformers in city, only nine transformers were reported damaged during the day for which alternative transformers have been dispatched," they said.
"23 out of 258 11KV feeders reported damage for which KPDCL teams responded promptly and the work on many of these continued post evening. All 36 of 33KV feeders were operational. Meanwhile local curtailments in many areas were necessitates for carrying out preventive repairs to avoid any loss to life and/or property in wake of heavy snowfall," officials said.
DC Srinagar, Dr. Shahid Iqbal Choudhary said  that services in hospitals were functioning normally and no disruption was reported anywhere today.
He informed that the water supply system suffered damage at six locations out of which five were repaired fully by evening while work is underway progress at one location expected to be completed by midnight.
DC Srinagar further stated that essential establishments like hospitals, grid stations, water treatment plants and others are cleared on top priority for uninterrupted supplies and service delivery.
He said that departments of MED, PWD, KPDCL, JSD, Revenue, Police and SMC coordinated for the restoration of supplies and services.
Tehsildars and BDOs were deputed in rural areas for assessing public grievances and communicating to district administration for Redressal through concerned departments. "Two houses damaged in Tehsils Eidgah and Panthachowk were sanctioned relief of Rs 1 Lakh each and administration teams visited to assist the families," he said.
Another round of snow clearance for all main roads is starting at 8:30pm for all major roads followed by which snow clearance operation shall be started at 5am on 6th Jan 2021, he said—(KNO)