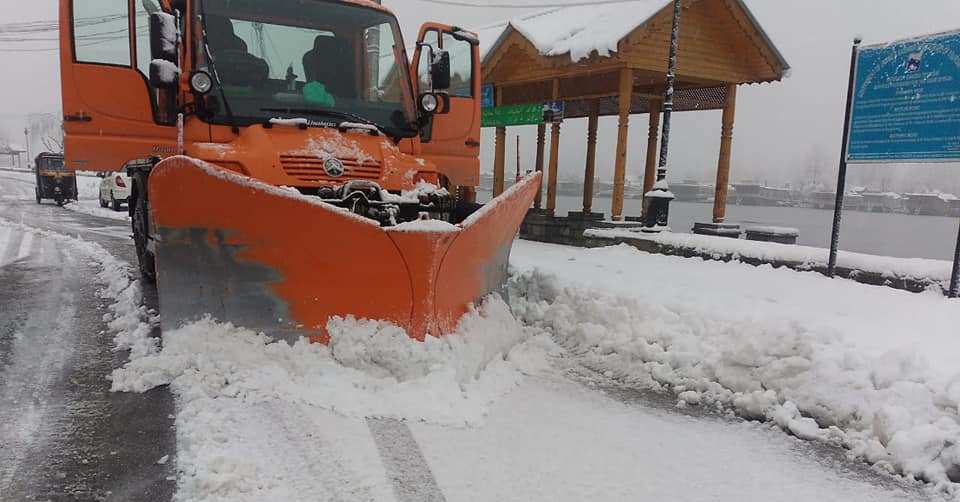 Srinagar, Jan 05: Despite timely prediction of heavy snowfall by the Kashmir's Meteorological Department, authorities are yet to clear all the roads from snow and restore 100 percent electricity in the Valley.
People across the valley faced inconvenience at greater levels as the authorities failed to clear snow from lanes, by lanes even on main roads at certain places. The snowfall also prevented many patients from reaching the hospital.
Amid heavy snowfall and un-cleared roads, a woman from South Kashmir's Shopian district gave birth to a baby on a make-shift stretcher when she was being taken to a hospital in Keller belt of South Kashmir's Shopian district.
Roads across Kashmir Valley particularly in Srinagar are accumulated with snow. Due to slippery conditions, vehicles were unable to ply on the roads. But by far, the people have complained that the roads are yet to be cleared from snow and electricity hasn't been restored fully.
People alleged that snow wasn't cleared from the lanes and by-lanes in their respective areas as claimed by the government. "Where is the government? Where are the snow clearance machines," a group of locals from Pampore area questioned.
Divisional Commissioner Kashmir P K Pole however, told KNO, that,  "Men and machinery are  actively on ground clearing the roads, but due to the continuous snowfall, the snow is getting accumulated on roads which is the reason there seems less shows less clearance."
"By tomorrow, weather is likely to improve, the roads will be fully cleared and there will be vehicular movement as well on the roads, he further said. Meanwhile, in view of heavy snowfall electricity woes have added to the miseries of people. People from different areas of Kashmir including parts of Srinagar complained about the breakdown of electricity.
"Power Development Department also has failed to restore electricity in many parts of the Kashmir including Srinagar," said a Srinagar resident.
Chief Engineer PDD Ejaz Ahmad said: "Our men are at job for restoration of electricity in Kashmir, overall 85 percent of load is restored in the valley."
"We are facing difficulties in South Kashmir's four districts because of heavy snowfall. We will start the restoration process again," he further said—(KNO)